Someone once wisely said that history is prologue. It is not something we seal away in a jar for posterity but something that sets the stage for what is to come. In the future we will look back on 2011-2012 as a year of historic significance in the life of the University.While we look forward to 2013 and the celebration of our Centennial anniversary, last year saw a number of strategic decisions and new initiatives that serve to position the school for the future. It was a year of unexpected challenges and even loss but also one of achievement and forward momentum.
The Annual Report for 2011-2012 is an encouraging one despite significant revenue shortfalls and a higher-than-expected attrition of returning students for personal financial reasons. The data indicates that the University experienced a challenging year fiscally, but controlled expenditures while still making progress on Strategic Plan 2012. You will notice losses on investment income in addition to the revenue shortfall related to enrollment. This was a setback but was managed well and compelled us to make strategic adjustments that are already yielding fruit in the current year.
Along with other initiatives, the double-degree requirement for all students was eliminated, making it more feasible for students to finish in four years with less debt. The University also changed its name by a unanimous vote of the Board of Trustees in May 2012. Cairn is fulfilling its mission of educating students to serve Christ in the church, society, and the world as indicated by alumni survey data that shows our graduates are working across the globe and in every sector of the workforce. The implementation of new initiatives in Strategic Plan 2012 have enhanced the student experience and improved the effectiveness of the staff to execute its duties and was accomplished despite the challenges of the current economy and its impact upon higher education.
There is continued evidence that there is a commitment to the mission and vision of Cairn University, that the issues of spiritual life are important to faculty, staff, and students, and that there is a sense of community that facilitates the work at Cairn University and reflects our core biblical values.

Todd J. Williams, Ph.D.
President
Consolidated Statement of Activities for Cairn University and the Regency Foundation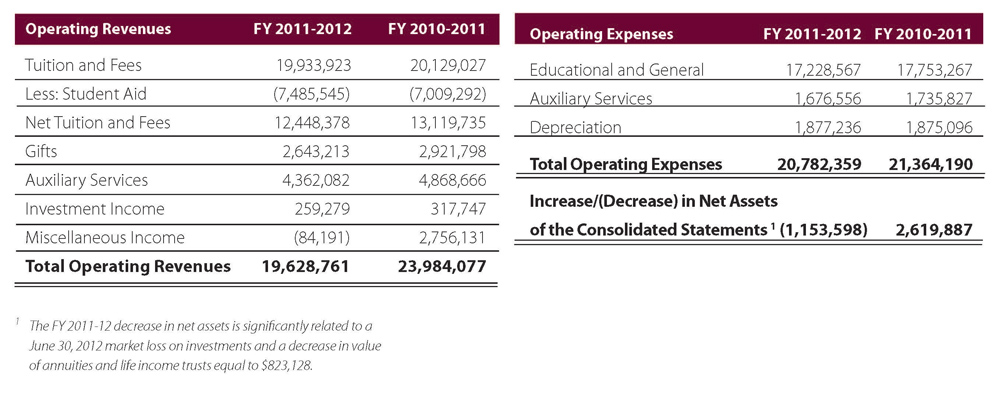 (click to enlarge)
 For a full listing of 2011-2012 donors, click here.