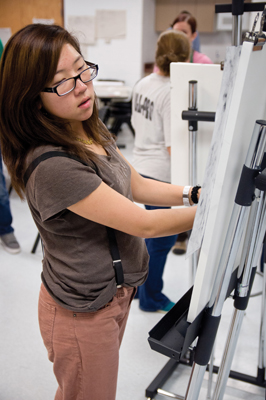 "The class in itself is very painstaking. It takes an hour just to draw the right perspectives and the right proportions. I really like that our professor has us go through those disciplines in the beginning so that, with the right foundation, we can grow in the right direction."
[dropcap3]T[/dropcap3]he University undertook renovations in the summer of 2012 to create the first active art studio on campus. Room 223 in the Cook Biblical Learning Center was transformed with just a few changes and additions, thanks to funding provided by The Chatlos Foundation.
In order to create the studio, the carpet in the classroom space was replaced with a linoleum floor that allows students to be creative using a variety of (often messy) materials. Tackable material was placed on all free wall space on the perimeter of the room for display and critiquing of projects, exercises, and sketchbook entries. Twenty studio-grade steel easels fill most of the back part of the room supporting twenty heavy-duty white drawing boards.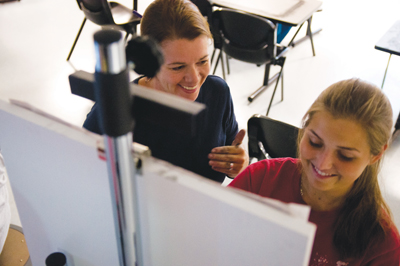 Four sets of flat files for storage of student artwork were purchased this fall, which the students in the first art class being offered, Introduction to Drawing, helped place and assemble. These classroom modifications and equipment purchases have provided a place in the Cairn community for creative energy and art production. This has flowed out of the studio doors to fill display cases and stimulate conversations about the arts.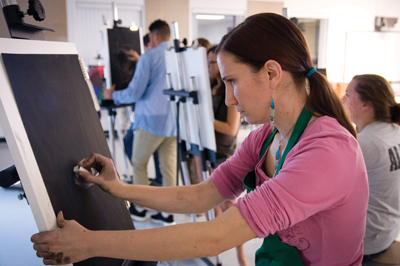 This space will continue to be developed in the coming months and years in order to provide opportunities for the creation of three-dimensional art, especially ceramics. This academic year, though, the first art courses are being offered: Introduction to Drawing (Fall 2012) and Introduction to Painting (Spring 2013). A four-year rotation of basic art courses has been developed, designed to expand opportunities for students in the areas of painting, ceramics, and printmaking. As additional funding becomes available to purchase equipment and make further modifications to the art studio, the University will be able to pursue providing courses in these mediums.
The foundation of the art studio and initial course offerings in the visual arts will expand in Fall 2013 to include coursework in the new Arts & Culture First Year Program, which will include a core of 15 credits of art-related courses.