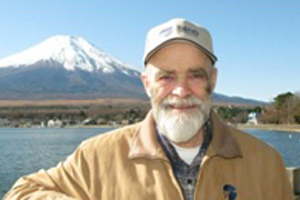 BOB MCKEMEY ('67)
B.S. in Bible
For 45 years, Bob McKemey has been in Japan with SEND International. His ministry has been two-fold: camping and discipling. As a seasoned camp director and popular foreign preacher, Bob has discipled hundreds of young Japanese men using extreme backpacking trips into the mountains.
Not long ago, Bob's newsletter recounted a fascinating story of a "chance" encounter with a woman truly seeking the Lord—a rarity in Japan. Returning from a trip up into remote mountains with his Australian cousins, Bob drove by an odd egg-shaped bamboo enclosure around a picnic table. Stopping to take pictures, a Japanese woman by the structure came to his car and asked what Bob was doing in Japan. When he told her that he was a missionary, she immediately said, "Oh, I want a Bible!" Since this providential encounter, the woman has trusted Christ and become connected to a local Bible-teaching church. She had been searching for the Lord for 25 years but had never found a Christian.
This summer, Bob officially retired from SEND Japan and settled back in Pennsylvania. Bob is a faithful servant of the Lord: by egg-shaped enclosures, in Japan, in Pennsylvania—wherever he is.
---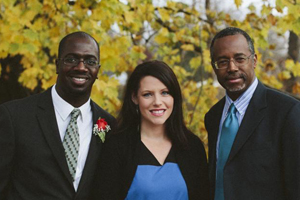 DWAYNE WALTON ('04)
B.S. in Bible
Born in Guyanan, South America, Dwayne Walton had a tough early life. With a father and two uncles murdered when he was young, he felt lost and hopeless. It was the church—and God's grace—that brought him to life.
Saved in 1997, he began attending church where he says, "They showed me love. The women prayed for me, and the sermons captured my attention. Jesus drew me closer."
Dwayne came to Cairn University and "was taught to study the Bible rightly and apply its truth. At Cairn,I had wonderful professors who challenged me to think and live biblically." His professors recalled stories of sharing their faith with all kinds of people, which in part inspired him to bring the gospel to people
in all circumstances of life.
Today, Dwayne is Executive Director of Parkesburg Point Youth Center in Parkesburg, PA. He shares the mission of The Point: "We work to address the spiritual, emotional, and physical needs of our community, and to assist local churches in accomplishing the great commission by providing a unique facility as a safe haven which offers the hope of the gospel."
Dwayne, his wife Amy, and his two children Elijah and Eliana live in Coatesville, PA.
Check out the Point's website: www.parkesburgpoint.com
---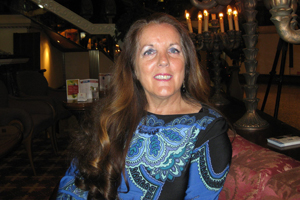 ROXANNE HOLCOMB ('80)
B.S. in Bible/B.S.W.
For Roxanne Holcomb, the road to Cairn ran via Switzerland. As a student at L'Abri, she was directed to Cairn University by friends, teachers, and mentors.
As a young graduate, Roxanne felt called to her hometown, Coatesville, PA, to The City Gate, a ministry founded by Cairn alum, Jack Crans '72. The people she worked with all needed physical services, but their real need was for Jesus and a spiritual community. This work required her to exercise every talent fostered at Cairn: "Cairn prepared me and trained me for multiple disciplines in the field of social work and encouraged my desire to know God more deeply through His Word."
Twenty-six years later, Roxanne serves as Executive Director of Family Resource and Counseling Centers
(FRCC), one of the largest faith-based counseling centers in Lancaster County, PA. "Here is the perfect culmination of all that God had brought me through. It is my desire to also have a downtown Lancaster location, with an emphasis on art therapy."
A proud Cairn alumna, Roxanne says, "Some call doctrine dry. I find sound doctrine absolute, sure, and exhilarating. It is my anchor."
Check out FCCC at: www.fracc.com
---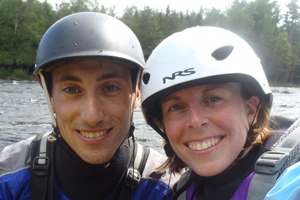 SETH COATES (WWC '00/'03)
B.S. in Bible
When Seth Coates attended Cairn, his plan was to someday become a camp director. So when he took the job of General Manager in 2010 at Windfall Rafting, a rafting company in Moose River, ME, it was not because his goal was to run a business or because he enjoyed being cold and wet.
Windfall is the only Christian owned and operated rafting company in New England. The guides find opportunities to introduce Christ each day, whether it is through conversations with their guests or through their actions and behavior on rafting trips The part that Seth loves most about his job is training his staff. "I love giving them life skills, and pushing them to grow in their faith and to grow as leaders." Most rewarding are those comments from guides who come back and tell Seth that their years at Windfall have changed their lives.
Seth and his wife Cathy are the proud parents of three beautiful children, Mayne, Brayden, and Saydie.
Since this article's publication, Seth's company has undergone some changes, but he still continues to run trips and share his faith.