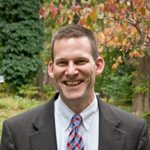 In the Fall of 2013, Alumni Director Nate Wambold convened a council of alumni based on recommendations from University staff, faculty, and administration.
The purpose of the Council is to advise the Alumni Director, discuss new initiatives, and address how to connect various generations to the University. They will also organize events such as Homecoming, and converse on the shaping of University culture. Each meeting is dynamic and contains constructive conversation about the past, present, and future of Cairn and alumni relations.
Council members include:
Steve Bachman '71
Tim Bouffard '99 /G'03&'10
John Stange '98
Deb Eckert '01
Steve Melniczak x'03
Joel Gaines '03
and Tia Gaines '04
To date, the council has met with President Todd J. Williams, Sr. Vice President Russ Nixon, and Highlanders Athletics staff; at the next meeting, they will meet with Executive Director of Enrollment Management, Dave Urban. At each of these gatherings, the Council has been able to offer productive, candid observations and explore a variety of questions and perspectives.
Have a question for the Council? Send it to alumni@cairn.edu.