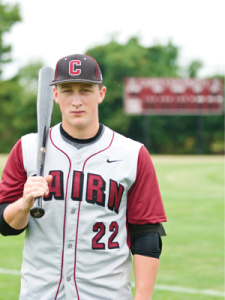 Junior Caleb Lang was named to the 2014 ABCA/Rawlings All-American Second Team. He qualified
for this honor when he was selected to the ABCA/ Rawlings NCAA Division III Mid-Atlantic All Region First Team. As a business major, star athlete, and follower of Christ, Caleb talks about how he got into sports, why he chose to attend Cairn, and how he reconciles the culture of athletics with his commitment to Christ's mission.
Q. Since sports was such a big part of your life growing up, why did you choose to attend Cairn University instead of a Division I or II school?
A. Many times in the past two years I have been asked by other students or coaches, "Why are you here?" or "Why do you play baseball at Cairn?" During my senior year, Cairn University reached out to me—I received an email from Coach Jan Haas, we started talking, and I scheduled a visit. It was really nice that Coach personally contacted me. It showed that the University really cared about its students and athletes. When I visited campus, I knew that Cairn was where I wanted to be. Although I was accepted into 12 different schools, Cairn felt right. Here I could study business and Bible, and play baseball—I felt the Lord was calling me to be at Cairn.
I love sports, and sports are important to me, but the way I see it, if sports are something that God wants me to really pursue, He'll open up the opportunity. And I don't see him opening up opportunities because of the school I am at, but because it is His will, and He will find a way. I trust that He will allow me to use Cairn as an avenue to pursue sports professionally if that's what He chooses. And if God isn't calling me to pursue sports, I know that I'll have a great biblical education from Cairn which is what is really important.
[blockquote align="left"]
Since my motivation to play is to serve Christ, I try to show sportsmanship and play competitively, representing Christ in my attitude and my actions.
[/blockquote] Q. How do you think being a Christian with a biblical education has shaped you as an athlete?
A. I think being a Christian athlete shouldn't be too much different from being a regular athlete. I've come to learn that I'm not playing for my own self, but I'm playing for something higher. Since my motivation to play is to serve Christ, I try to show sportsmanship and play competitively, representing Christ in my attitude and my actions. A lot of other teams don't do this—whether it's the language they use, their facial expressions, or the way they treat others and the umpires. People are always watching athletes, so I try to set an example and always stand on guard. By watching Coach Haas and Coach Phill, I've learned leadership skills as well. They really serve us and value others before themselves, whether they're the last one to eat at meals, or sacrificing their time and money for the team. We have 6:00 a.m. practices, and our coaches are always there to encourage us.
Q. What are some things you've had to learn while playing sports at a Christian university?
A. One thing I've learned is that in order to bring up your own level of competition, you need to bring up those around you. I think the attitude everyone needs to develop is to put others first. If you serve others, they in turn will serve you, and that way everyone is serving each other.
Q. With such a big focus on winning in sports, how do you reconcile the competitive nature of athletics with the spirit of Christianity? Do you ever feel conflicted?
A. Sometimes it can be conflicting because sports can be self-glorifying. But you need to have the spirit of humility, and remember that your gifts are not your own—they're God's—He's the one who gave them to you. But most of the time, I don't feel too conflicted. I represent Christ by competing and trying to win, and I think people respect that more than the mentality of just going out there to have fun. And when you do win, it usually gets the attention of more people and can open up opportunities to share Christ with them. Winning isn't everything, but you can represent Christ by trying your hardest and doing your best for the glory of God.
For stats, recaps, and other news, go to: cairnhighlanders.com