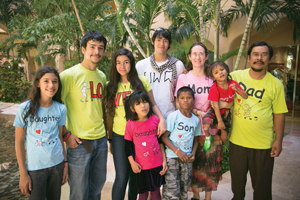 HEAP '94 AND JENNIFER (NORRIS) '02 HIM
Heap: BSW
Jennifer: BS in Bible (Biblical Studies)
In Cambodia, where Heap and Jennifer serve Christ, disabled children born to Hindu families are unwanted. Believing that a disabled child is evidence that parents are cursed, parents neglect and ignore the child.
This is true for both the rich and the poor, Heap says. "Even though [parents] become Christians, they still think this way…We teach both parents and children that they are not cursed because of their past life, but that all are born with a sinful nature and made in God's image, and that God loves them. We teach on suffering often — why we suffer. Our staff holds devotions every day to help all see how great our Creator is."
Those ten staff members are part of Therapy Training Loving Care (TTLC), a school currently serving 16 children with brain injuries. They provide food,therapy, and care for these "unwanted" children. Jennifer is deeply involved with this work.
Heap also trains, mentors, and counsels local indigenous pastors, in addition to managing a small child sponsorship program. American sponsors enable the program to provide children with funding for food, clothing, and schooling. Each child is also connected to a local church.
---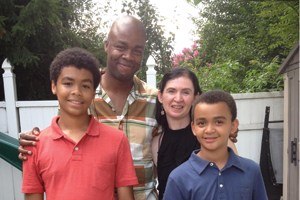 KEVIN '96 AND HEIDI (SHAWCROSS) x '93 VAUGHAN
BS in Education (Elementary)
As a new math teacher, Kevin became frustrated trying to fit into others' molds. So he cast his own: "I realized God made me who I was to be. I made myself accessible to students. I used my love of sports. Loving baking, I encouraged students by giving Student of the Week awards and huge 9-inch cookies. I used humor to connect with students who would rather eat liver than learn math."
An associate pastor at First Baptist Church of Blackwood, missionary athlete with the Saints' prison ministry, and public school teacher in New Jersey for 15 years, Kevin never thought he'd move. But a casual conversation with an old friend, Dan Tubbs '96, led to a job offer. Kevin and his family moved to Virginia in August 2014.
"At Norfolk Christian, I am surrounded by people who love the Lord and love children. It is a blessing to be under the leadership of my friend Dan Tubbs, who is reasonable, practical, and desires to honor the Lord in everything."
Kevin, Heidi, and sons Langston (13) and Tobin (11) are adjusting well to their new life in Virginia, where Kevin still loves baking cookies, cakes, and brownies.
---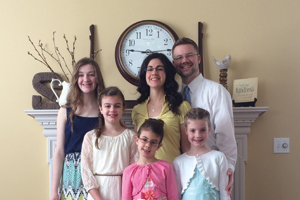 JOHN '97 AND PAM (HARKINS) '98 SLIPPY
John: BS in Bible (Pastoral Ministries)
Pam: BSW
John planned on being a pastor, but God had other plans for him. Newly graduated and married, John and Pam considered a variety of options for John, especially seminary — until an auto accident brought them into regular contact with a chiropractor who helped them tremendously.
Through this providential encounter, John felt called to consider the impact a Christian could have as a chiropractor — on patients, business associates, colleagues, everyone. Throughout the competitive and rigorous program at Palmer College of Chiropractic, John and Pam relied on God's grace in a stressful environment that fostered a high divorce rate for married students.
They persevered, and after graduation, John opened his own practice, Living Well Chiropractic in Exton, PA. LWC is thriving today, employing multiple doctors, with other facilities soon on the horizon. They live nearby, where Pam homeschools their four daughters.
On being a Christian and a chiropractor, John says, "Jesus died for people. People matter most to Him, so they should matter most to us. What a privilege it is to know Christ and to make Him known one patient at a time."
---
Bible Centered Ministries International (BCM) recently announced the retirement of David and Lois Haas. Their 56 years of service are characterized by David's simple statement: "It is the Lord who does the work through you, so He gets the glory."
Between them, the Haases have held many roles with BCM including, but not limited to, senior vice-president, Philadelphia director, director of publications, Bible club teacher and organizer, church curriculum writer and innovator, elementary and preschool teacher, missionary to Jamaica, summer camp worker at Camp Sankanac and Streamside, academic dean at Manna Bible Institute, trainer of hundreds of Cairn University ministry students, and parents of three boys. The thread running through every role is faithful service to Christ.
It was an honor to have the Haases join us at commencement for this year's Golden Grad Celebration, where those who graduated 50 or more years ago led the procession of graduates.