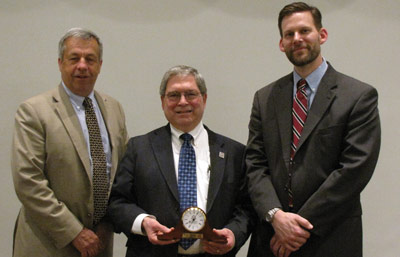 Thursday, April 16, Cairn University held an alumni and friends gathering at Tel Hai Retirement Community to present the Alumni Recognition Award to Tel Hai President and CEO Joe Swartz.
Joe has made a great impact on the senior living community, having served on numerous boards associated with the industry. He is responsible for all operations of the Tel Hai community and has over 40 years of experience in the industry, including executive roles in Pennsylvania, Ohio, and Florida. He was also appointed by Governor Jeb Bush to serve on the Florida Continuing Care Advisory Council. He graduated from Cairn University in 1973 with a Bachelor of Social Work.
The evening was a wonderful time of connecting with faculty, alumni, and friends of the University. Present at the event were representatives of the program's leadership over the past 50 years: Margie (Furness) Brubaker '74, daughter of the program's founder and first chair, Dr. Charles Furness; Bill Tarr '72, the second chair, and his wife Jill (Jefferis) x'75; and Dr. Lloyd Gestoso '92, the current dean. Dr. Janet Tyler, a professor in the department for over 30 years, and social work alumni were also present, including William Neumann '63, who returned after his graduation to complete the new coursework offered by Furness.
"I look back with gratitude for the impact Cairn made in helping me to learn and grow as a person."
Upon receiving the Alumni Recognition Award, Joe commented: "I feel honored and humbled to receive the award. Cairn helped me prepare for both life and my life work in senior living through its social work program, biblically-integrated education, and leadership opportunities. I look back with gratitude for the impact Cairn made in helping me to learn and grow as a person and prepare me for service within society and the church."