TRUSTEE EMERITUS RODNEY ICE DIES AT 79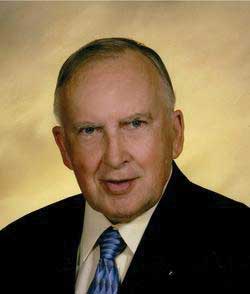 Nuclear pharmaceutical expert and champion of academic excellence Dr. Rodney Ice, trustee emeritus and devoted friend of the University, died Thursday, October 6, 2016, at age 79 after a long illness.
Dr. Ice was a nationally recognized pioneer in the field of radioactive medicine and a leader in nuclear pharmaceutical education. While teaching at Temple University, Ice attended church with Dr. Clarence Mason, who encouraged Ice and his wife to take evening classes at Cairn. Impressed with the University's biblical worldview approach, Ice maintained a lifelong enthusiasm for Cairn and was instrumental in ensuring that the University combined a commitment to academic excellence with biblical integration. Dr. Ice served on the University's Board of Trustees for 37 years, including one year as chairman in 1996–97.
Dr. Ice's research led to numerous advances in radioactive medicine, influencing nuclear pharmaceutical practice through over 100 articles, over 160 paper presentations, 11 textbook chapters, and a published book. He was also an influential educator, mentoring over 40 graduate students pursuing advanced degrees. In 2004, the American Pharmaceutical Association presented Ice with the William H. Briner Award for his significant contributions to the field.
Dr. Ice believed that the hand of God was evident in the study of science and medicine. In addition to his professional influence, Ice served as a deacon and Sunday School teacher, as well as an active member of Gideons International.
"Dr. Ice's contribution to Cairn's Board of Trustees cannot be underestimated," says Dr. Sherrill Babb, chancellor of Cairn University. "Dr. Ice was a man of few words, but when he spoke, his board colleagues listened intently to his wisdom and counsel. He strongly supported the decision to offer graduate programs and pressed for university status with the Pennsylvania Department of Education in 1999. We fondly remember his godly character, his insistence on striving for excellence, and his goal to accomplish all for the glory of God."