MUSIC ADJUNCT VIRGINIA WHITNEY ENCOURAGES CULTURES' TRADITIONAL MUSIC STYLES IN WORSHIP.
Many are familiar with Wycliffe Bible Translators' mission to make God's Word available to millions of people without the Scriptures in their own language. But Christian missions has a long history of presenting the gospel in the heavy garb of Western culture — a practice that has unintentionally left deep scars of distrust or disengagement among many people groups, creating a barrier to the thriving of the church. In 1961, renowned marimbist Vida Chenoweth pioneered a new field when she lived among Papua New Guinea's Usarufa tribe and sought to communicate the gospel through not only their native language, but also their native music. Today, ethnodoxology is an important field at the intersection of ethnomusicology, worship studies, and missiology.
Ethnodoxologists continue to study ethnic musical traditions and help churches use their own traditional musical styles in worship, rather than just simply adopting Western hymns. In addition to preventing loss of a people's music through cultural assimilation, familiar forms of worship speak in unique ways to individuals' hearts. In a sense, it communicates that "this gospel is for you."
Less than 50 years old, this field is still groundbreaking. Cairn's Virginia "Ginny" Whitney, adjunct professor of music theory and ethnomusicology, was one of Dr. Chenoweth's first students at Wheaton College Conservatory. "Vida took the linguistic theory behind Wycliffe and applied it to music, teaching us how to analyze unwritten music systems for the purpose of sharing the gospel," Whitney explains. "She took us on a four-month internship to Papua New Guinea, out in the bush in these little remote villages, and that's when I knew that was where the Lord was leading me." Following in Chenoweth's footsteps, Whitney returned to Papua New Guinea with her husband, spending twenty years among the Akoye people guiding the development of both a Bible and a hymnody in the "heart language" of the locals.
The Whitneys returned to the US in 2001, where Whitney earned her Master of Music degree from Temple University in 2008, publishing a thesis analyzing oral tradition song in the Akoye culture, shortly after revising the third edition of Chenoweth's seminal textbook on studying ethnic song, Melodic Perception and Analysis. In addition to working as the music director at a local church, Whitney joined Cairn's music faculty in 2014.
But God was not done with Whitney's heart for fieldwork and transforming missionaries' and congregations' approach to worship. In spring 2015, two missionaries to Cameroon, Lisa and Dan Friesen, posted a request on World Team's website: "Needed: Ethnomusicologist now!" They were seeking someone trained in both music and missions to walk alongside the Oroko people, encouraging and equipping them to use their own musical traditions in worship.
"While I love music theory, I'm always looking for ways to plug back into ethnomusicology and missions," Whitney says, "so I regularly dig through mission board websites to see where the needs are. When the Friesens specifically asked for an ethnomusicologist, I thought, 'Wow, Lord! This is exactly what I've been praying about.'"
To support the Friesens and the Oroko church, Whitney and her husband traveled to Cameroon for four weeks in May 2015. This summer, they returned for another four weeks, accompanied by Cairn music students Angie Tyler '18 and Daseul Park '18. Their team recorded and analyzed traditional songs, learned from local musicians, and encouraged local musicians' composition of worship songs in the Oroko style. "This summer, we got to go to a lot of Oroko cultural events, and we could see how the traditional style of music still speaks to the Oroko people so deeply," Whitney says. "You could walk through that village and hear everything blasting from radios — even the latest hip-hop from here in the US — but during these traditional events, their own music just ignites their souls."
Much of the song analysis fell to Tyler and Park, undergrad students who had taken Professor Whitney for Music Theory III and IV. The students transcribed recordings of Oroko songs, both sacred and secular, learning to recognize and notate the culture's distinct drum patterns.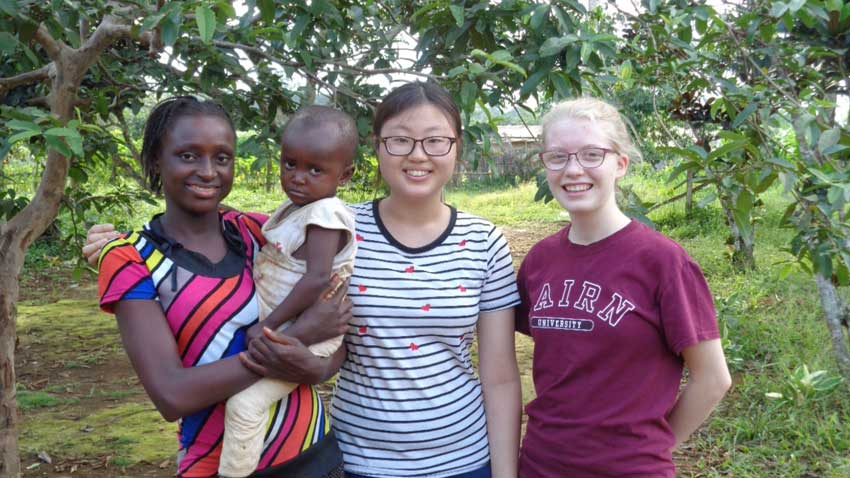 However, Tyler and Park say they learned about much more than just musical notation. "I definitely learned about rhythm, which I wasn't good at," shares Tyler. "But what I really learned is that music is not a universal language. In so many cultures, it's like we've translated the Bible into their language, but we're trying to give them our music…but that doesn't work, because music isn't a universal language."
Park was familiar with the challenges of translating worship music from one language to another: "We Koreans heard the gospel from western people, and many hymns from western cultures do not translate well word-for-word. Because few translators really understand both languages and cultures fluently, the words in many hymn translations just don't really speak to us." But when communicating through music, meaning and impact depend on more than just words. "People groups have different meanings for different music. What sounds happy in one culture might sound sad in another," she explains. "If you just translate words and put them to the same tune, the words and the music can communicate opposite messages."
The research team was delighted to discover that many Oroko churches already use features of their cultural music in their worship. Some songs are common in churches throughout the Kambu region. But much more can still be done.
While many Oroko hymns were sung by isolated congregations, few were widely known. Whitney's team suggested that Oroko churches develop ways to share traditional-style hymns, possibly by transferring MP3 files between cell phones. "Everybody has a cell phone, even people who don't really have electricity," Whitney explains. "Even without reliable internet, a collection of Oroko worship songs could certainly be shared from phone to phone."
However, a successful music-sharing initiative would depend on changed beliefs about the appropriateness and validity of traditional music in worship. Park explains, "When missionaries first arrived, they forbade people from worshiping with their own instruments, because those instruments were used to worship other gods. It's hard to break a people's association with idols, but banning traditional music styles and instruments from the church is not how to do it. Its impact is similar to forcing people not to speak their own language and to only read the Bible in English."
Furthermore, people must believe that their traditional music is not only appropriate, but desirable. "Oroko churches are so eager to have western-style worship bands with drum sets, pianos, and synthesizers," Whitney says. "Even though their music speaks to their hearts in unique ways, they want to be like the outside world. Because they think westerners have 'made it' in the world, they think that whatever we have must be best." To combat these beliefs about the superiority of western music, Whitney taught two seminars at the Cameroon Baptist Seminary: "Music and the Bible" and "Music and the Local Culture."
Planning to return to Cameroon in 2017, Whitney hopes to lead song composition workshops with Oroko musicians, creating original Scriptural songs in culturally appropriate styles. In the meantime, she continues to analyze the data gathered on last summer's trip.
"The point is not for us to be able to teach Oroko composition," explains Tyler. "They already know how to do that. It's to deepen their worship by addressing the attitudes learned from former missionaries, who did such important work communicating the gospel through words, by helping them promote the gospel powerfully through music."