Just after Thanksgiving in 2016, ten people overdosed on  heroin in just ten days in the Bucks County community of Falls Township. Four died.
The streak contributed to a record-breaking 185 opioid-related deaths in Bucks County last year — almost a 50% increase from 2015. According to local news sources, the crisis has only gotten worse.
Dr. Lloyd Gestoso '92, dean of Cairn's School of Social Work, is determined to see the death count drop. A multifaceted approach to combat the problem has been adopted by the Lower Bucks Addiction Task Force, a newly-formed branch of the Bucks County Heroin Prevention Outreach Initiative. Its members include Dean Gestoso, law enforcement, elected officials, and treatment representatives.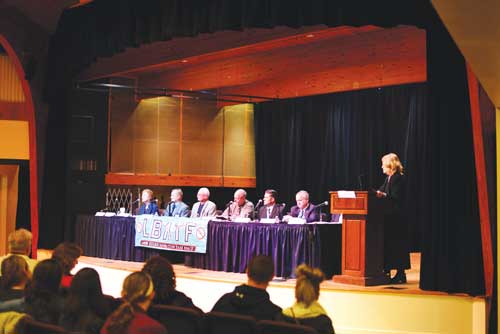 First gathering in a Cairn classroom on November 17, the task force held a public town hall on February 15 in the University's Chatlos Chapel. The event was attended by over 200 Bucks County residents, addicts in recovery, service providers, and representatives from local nonprofits and churches.
Attendees were challenged to identify their role in fighting the epidemic, whether by engaging with education or rehabilitation agencies, law enforcement or state legislation.
To read more about the task force and its initiatives, visit cairn.edu/news/BucksCountyAddiction and cairn.edu/news/LBATF.