In October 2016, the University publicly launched Forward: The Campaign for Cairn University. This $15 million fundraising effort seeks to strategically invest in our students, academics, and campus to further the mission of Cairn University by focusing on the following:
Improve student affordability by providing scholarships through The Cairn Fund
Expand academic opportunities by exploring new programs in high-demand science and technology fields
Strengthen campus community by creating physical spaces that foster edifying and enduring relationships
Here are updates from the campaign trail, reflecting our Advancement team's efforts and — above all — the support of the Cairn community.
CAMPAIGN PROGRESS*

*as of July 25, 2017
Matching Gift Week 2017
Supporters raise almost $90,000 for scholarships during Matching Gift Week.
On March 20–24, during the University's third Matching Gift Week (MGW), the Cairn community generously donated almost $90,000 for student scholarships offered through The Cairn Fund. All gifts received during MGW advanced the campaign's goal of raising $3.6 million for student scholarships. Cairn will distribute $24 million in University-funded scholarships and financial aid over the life of the three-year campaign.
"The Lord has been doing great things at Cairn University," said Russ Nixon, senior vice president for university advancement. "We are so grateful for the alumni, friends, trustees, and employees who participated in both prayer and financial support. We are grateful for the alumni who helped us promote this fall's new academic programs through the MGW videos. Finally, we are grateful to the anonymous donor who challenged the Cairn community by providing the matching gift for all donations."
Although gifts received during MGW totaled less than last year's $138 thousand, the fundraiser's growing momentum is evident in the Cairn community's turnout in support of this campaign priority. Total participation increased 24% — from 185 donors in 2016 to 230 donors this year, 61% of whom were alumni and 17% of whom were firsttime donors.
Thanks to your generosity and gifts of all sizes, the campaign raised almost 3% of its goal for scholarship support in a single week. "Our alumni always recall the impact of their professors and academic programs, so highlighting the exciting new majors made this year's Matching Gift Week particularly compelling," said alumni director Nate Wambold '99, who helped plan the event. "Thank you to our alumni who responded and raised our annual alumni giving for the second year in a row!"
Nearly 50% of funds raised for Science and Technology programs; family honors former Cairn student with $300K gift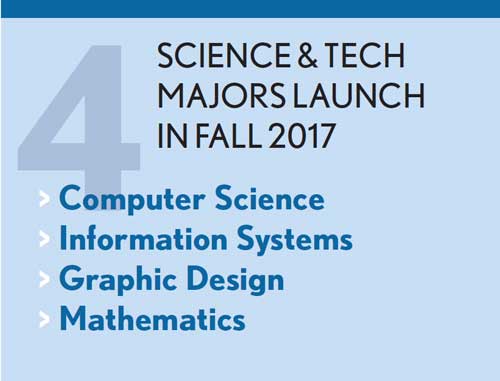 The most innovative priority of the Forward campaign is raising funds to launch science and technology programs at Cairn University. New computer labs and software, as well as new faculty experts in computer science and graphic design, will enable the University to prepare biblically minded professionals to serve in these high-demand fields shaping today's world.
In 2016, Cairn received a generous gift of $300 thousand to support new computer science programs. In honor of 86-year old engineer and former Cairn student Bill Stillman, Jr. x'53, the Stillman family's gift has helped the University push closer to the 50% mark of the campaign priority's $1.5 million goal.
"Looking at the decline in the number of Christian colleges and universities that have maintained a commitment to biblical studies, I think Cairn University is increasingly unique in requiring 30 credits of Bible for a degree," says Ed Stillman, Bill's son and secretary of Cairn's board of trustees. "To be able to do that with engineering and the sciences would be tremendous."
Nearly $687 thousand has been secured for science and technology programs at Cairn. Full-time faculty have been hired with expertise in computer science (Assistant Professor Michael Sabal) and graphic design (Instructor Matthew Stemler). This summer, two computer classrooms for computer science and graphic design coursework have been fitted with new PCs and Macs, respectively. In the next year, funds raised will support additional projects, including a server lab for Information Systems majors.
An additional $813 thousand is needed to realize the University's goal to educate biblically minded men and women to serve the church, society, and the world through the fields of science and technology.
Campaign national tour spans the USA

Forward Together is a series of events for alumni and friends around the country. Each event provides the opportunity for alumni to reconnect, network, and become informed about what's happening at Cairn and the impact of the Forward campaign.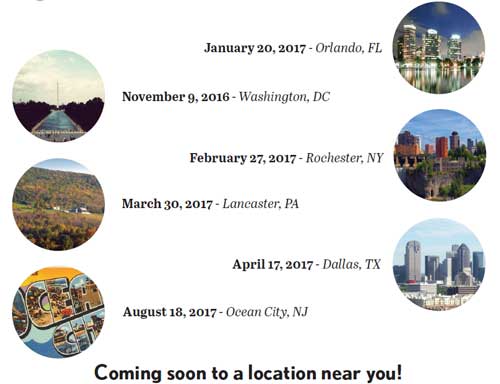 The atmosphere of these events range from formal — including dinner and presentations from President Dr. Todd Williams and other speakers — to casual, like New Jersey alumni gathering over pizza on the Ocean City boardwalk in August.
Since November 2016, the tour has made six stops in six states. Look for upcoming events in Philadelphia, Harrisburg, Delaware, and California, starting this fall.
Upcoming events and more updates can be found at cairn.edu/forward.