Sophomore Tieagra McNeil spearheads solar project for regional champion Enactus team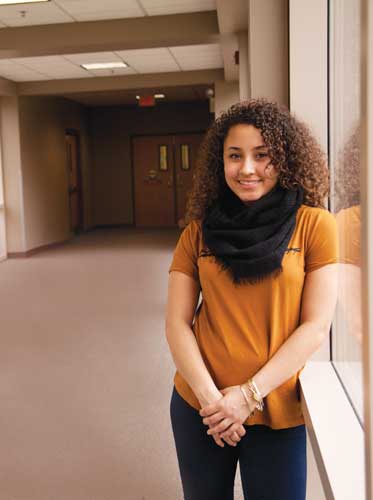 Tieagra McNeil's underclassman years were marked by oversized impact. In her first freshman semester, she was appointed to the presentation team of Enactus: Cairn's chapter of an international organization fostering student-led entrepreneurial projects that serve communities on campus, locally, and globally.
The business administration major helped lead her team to participation in national championships in both 2016 and 2017, competing in St. Louis and Kansas City, MO. This year, she accepted a new challenge: project manager for a solar power initiative on campus. Under McNeil's guidance, her project team developed proposals that have been approved by the University's cabinet and began seeking funding.
"When I was deciding where to go to college, at first I didn't think going to a Christian university for business was a good idea," McNeil confessed, "but as a sophomore, I've had so many opportunities in just two years of being here."
In addition to the School of Business' focus on ethics and "what's important in a workplace and business as a whole," McNeil has also discovered that the program's rigor lacks nothing compared to its secular counterparts. What allows her to thrive is the personal investment of her professors, she says.
"When I took statistics last semester, I honestly thought I was going to fail that class," she said, "but my professor, Mr. Glass, really cared a lot. I could always email him questions and he would email back right away. Professor Gaspar teaches the project management class, and he knows everyone and their strengths and weaknesses. I can text him any time of the day and ask him a question. I could go to his office right after this [interview] and sit there until five o'clock, just asking questions, and he wouldn't tell me to leave. Even though I'm a business major, I have relationships with professors in other schools, too."
Looking ahead to her junior year, McNeil is gearing up to lead her project team through the fundraising process for solar installation at Cairn. Ultimately, her team wants to show that even on a relatively small campus, students can make big things happen. Tieagra's experience shows that with the right team behind you, good things don't have to wait.
TIEAGRA'S FAVORITES
Favorite Bible verse: Proverbs 31:25
Favorite spot at Cairn: Highlander Café
Favorite Book: Purple Hibiscus by Chimamanda Ngozi Adichie
Favorite Hobbies: Baking and spending time with friends and family
Favorite Courses at Cairn: Intro to Marketing with Mrs. Peiffer and Sociocultural Studies with Dr. Ebersole and Mr. Palladino