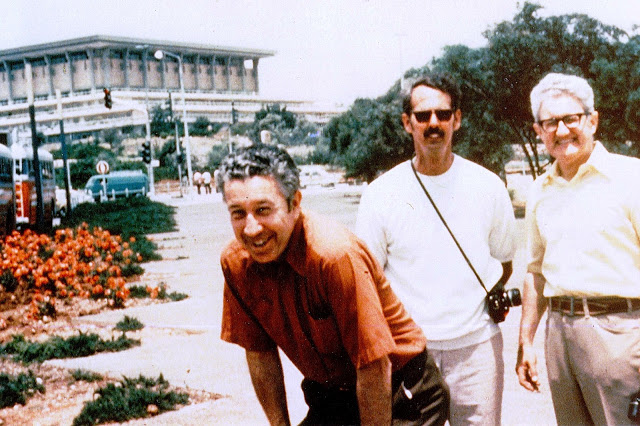 Dr. Gordon Ceperley
1921–2004
Known on campus as "Mr. Israel," this professor (pictured center) became our institution's first full-time instructor in 1949. At the Center City Philadelphia location on 17th and Spring Garden Streets, "Abba Cep" began teaching Old and New Testament at what was then known as Philadelphia College of Bible (now Cairn). In addition to leading over 25 tours to Israel, he wrote a book about Israel titled A Promised Land for a Chosen People and was honored in 1982 by Israel's consul general for "strengthening the bond of friendship" between Israel and the US. A graduate of Wheaton's biblical archaeology program and Dallas Theological Seminary, he was also awarded an honorary doctorate by Cairn University. After over 45 years of professorship, he retired from teaching in 1995.
---
READERS OF CAIRN MAGAZINE SUBMITTED THESE MEMORIES:
The picture of Dr. Ceperly brings back many memories. It was taken by me for the 1969 yearbook. The young man beside Cep is Lee Simons ['71]. When I graduated from PCB, my parents, wife, and I were a part of the group that went with Cep on a 21-day tour. It was amazing and included short stays in Greece, Italy, London, Germany, and Israel. Dr. Ceperly baptized me in the Sea of Galilee at a kibbutz where we stayed. Each night, people would bring stones they had picked up that day for my dad — a commercial artist — to letter the date and place they had found it. At the end of our stay in Israel, our local guide told Cep that if he ever came back to Israel to teach how to guide, our guide definitely wanted to be a part of that class. Cep had an amazing working knowledge of Scripture and Bible locations. My dad never stopped talking about that amazing trip! Now both in Heaven, perhaps Dad has finally been able to take one of Cep's classes.
Tom Douglass '71
As "Mr. Israel," Dr. Ceperley brought the Bible alive with a smooth narrative & vivid imagery in his classes.
Kenneth Stice '79
It's my favorite professor of all time, Dr. Ceperley. I don't remember how many courses I took with him — as many as I could. He received the honorary doctorate at my graduation. When I was overseas as a missionary, I remember being confounded by a question about the priesthood, so I wrote to Mr. Ceperley and asked him. He wrote back with the answer and warm greetings.
Donnamarie Lovestrand '92
Many will remember Abba Cep as a favorite teacher, as a speaker at conferences and workshops, as "pulpit supply," or as a passionate advocate for and tour guide to Israel. I remember him in all these roles, also. As to character, he was wise, stable, strong but gentle, a clear thinker, and able to present complex theological concepts in very understandable terms. He was truly an Abba, in every sense of the word.
But I also remember caring for him in his final days on this planet. Many came to visit him in Langhorne Gardens: colleagues, students, staff, friends, and family. One particular visit stands out. A long-time friend who had moved to Jerusalem was visiting with us. I wheeled Cep up to the front lounge, but he had not been able to speak for some months. The talking would be just between two of us while Cep listened — and listen he did. In the midst of our intensifying discussion, a strong, clear, deep voice rang out and put the fear of God in both of us. At first I thought it was God, but then realized it was Abba Cep, speaking for God: "He just wants us to trust Him." Our friend and I sat there, silent and duly rebuked, pondering what we had heard and how powerfully and authoritatively it was spoken. Out of Cep's extreme extremity, just weeks away from his ultimate promotion, came words that still ring in my mind, heart, and spirit — even 12 years later. They will continue to ring and transform me until we meet again in His glory.
Nancy Ceperley '86/G'98
Wife of the late Dr. Ceperley
---
SEE THE MOST RECENT PRINT ISSUE OF CAIRN MAGAZINE TO TAKE YOUR GUESS AT THE NEXT MYSTERY HIGHLANDER!