Campaign Update: Vision to Reality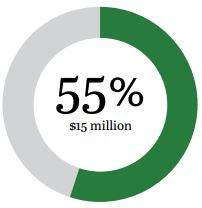 The Cairn Fund
Support of The Cairn Fund has been positive, as the University continues to focus on meeting the needs of our students. With over 90% of our students receiving aid, your continued support is critical.
Student Life and Athletics
Through Giving Tuesday and Matching Gift Week this calendar year, we have been able to shorten the distance to our campaign goal for these initiatives. Several of our projects within this part of the campaign are being transformed from a vision to reality as the design phase is being completed. With continued prayers and gifts, we anticipate ground breaking for the new G. Patrick Stillman Athletic Complex by Spring 2019.
Academic Programs
With the launch of 12 science and technology programs and the completion of our graphic design lab, our students are already benefiting from funds raised for the campaign. Since five biology programs are set to begin in Fall 2018, it is imperative that we raise the funds to provide two new science labs. These programs will expand our impact in the world for Christ with new professional opportunities.
---
In their Own Words—MAking the forward Vision a reality
As local business owners, we give to Cairn because we are able to hire talented students who share our Christian and corporate values. We want to see the University succeed for the benefit of placing well-educated Christians in the marketplace." —Dave and Karen Kovalcik

As we consider our charitable giving, God continually places Cairn on our hearts. We are happy to take part in Cairn's vision to equip students to flourish in their faith and calling." —W. Carey & Nancy '66 Hewitt

When considering how to distribute our tithes and offerings, asking for God's leading is obviously important. Cairn University is an institution we feel led to support as we have observed what the school has done for our daughter, Gretchen, who is in her junior year at Cairn. We are confident that sending our child to a university where Christ is honored and God's Word is taught will build a solid foundation for life and learning." —John and Susan Shirk
---
Thank You—Matching Gift Week 2018
To all participating alumni, alumni parents, board members, current parents, faculty & staff, and graduate & undergraduate students, thank you for your support of Matching Gift Week 2018! This year we had an increase in gifts from every participating group mentioned above. A total of 278 participants, representing a 22% increase over last year, raised a total of over $127,703 towards Forward: The Campaign for Cairn University. This continued increase of support for the University reminds us of our strong Cairn community. Your generosity supports Cairn's mission to educate students to serve Christ in the church, society, and the world as biblically minded, well-educated, and professionally competent men and women of character. Thank you for partnering with us in fulfilling our mission and investing in our students.
---
Golf classic 2018
—Top sponsors
Title Sponsor: Penn Community Bank
Event Sponsors: Compass Ion Advisors, LLC., Mel Nace, Pat Stillman, Stillman Volvo, Tait Weller & Baker, LLP., Xyvid Inc.
Dinner Sponsor: Pete & Lisa Dilullo
Special congratulations to 2018 Cairn Golf Classic Award recipient: Stillman Volvo