Our New Labs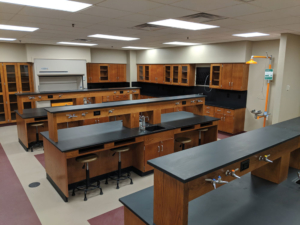 To support our newly launched biology programs, funds raised through the Forward campaign have assisted in creating two new laboratory spaces. In addition to biology, these labs are also properly equipped for the teaching and practice of chemistry. Teaching chemistry supports the study of
biology and the development of future programs.
This construction project, completed in the fall semester, included:
• Enhancing the preexisting lab/ lecture area
• Renovating an adjacent classroom into a second lab
• Building an essential prep room between the two labs to provide an important restricted area for faculty to prepare lab set-ups
and house equipment
• Installing water and gas access
at every workstation
• Purchasing a new fume hood, which is necessary to meet safety regulations
• Ensuring ADA compliance
Both labs provide a space for students to perform classroom labs, but they also serve as a space for students to pursue independent projects. Continued support of the science and technology programs allows the University to create and ensure opportunities for our students as they grow in their academic knowledge, professional competency, and faith.
Giving Tuesday
This Giving Tuesday, we dedicated all donations to our students through The Cairn Fund, which provides tuition aid to over 90% of our students who apply for assistance. The total amount of gifts and pledges doubled from last year's Giving Tuesday. To know more about the impact of donation to The Cairn Fund, visit cairn.edu/givingtuesday.
Cairn Hosts Second Annual Scholarship Reception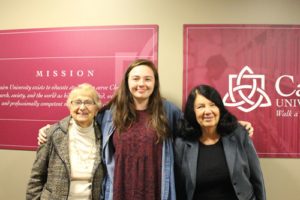 Scholarship donors and student scholarship awardees were invited to the second annual Scholarship Reception, an evening of fellowship and refreshments. The reception gave donors the opportunity to share the meaning behind their named scholarships, and students were given the opportunity to share their gratitude for the donors' generosity and their experiences at Cairn. Named scholarships are a wonderful tradition at Cairn, and they have provided critical tuition aid to generations of students.
To learn more about the establishment of a restricted, endowed, or hybrid named scholarship, contact Tammy Butler, senior advancement officer, at tbutler@cairn.edu or 215.702.4395.
Giving Update
The Cairn Fund – 114% goal raised in gifts and pledges
As a result of the generous giving of our donors, we have already met and exceeded our campaign goal of $3.6 million for The Cairn Fund. While we take time to celebrate this tremendous accomplishment, we are also aware that the need for financial assistance increases with our growing enrollment. Continued giving to The Cairn Fund is still being accepted to further impact the lives of our students.
Academic Programs – 63% goal raised in gifts and pledges
To fully support the future and growth of our science and technology programs, we need to raise an additional $555,000. These funds will allow Cairn to hire new faculty members and purchase necessary equipment and materials in order to provide the best possible resources for our students.
Student Life and Athletics – 35% goal raised in gifts and pledges
These new and renovated spaces will create new opportunities for athletics and student life. Gifts made to Student Life and Athletics will fund new
spaces such as the G. Patrick Stillman Athletic Complex.