Meet Mark
Mark Levengood '12 studied Bible and discipleship counseling while he was a student at Cairn. Completely losing his sight at the age of 13, Mark learned at a young age to cope with the limits that blindness presents. Now, Mark uses his life experience and the education he received from the University to help others who are losing their sight to experience the world with a different perspective.
In fifth grade, Mark needed glasses. But as his need for corrective lenses grew, it became clear that something was not right. By the time he was 13, the problem was clear: An olive-sized tumor lay on his optic nerve, restricting his vision. Mark's doctors determined that Mark needed surgery to remove the tumor in order to save his sight. Once the surgery began, however, the physician realized that the tumor—which proved to be benign—could not be removed. In fact, it had inextricably woven itself through several parts of Mark's brain and glands. Mark entered surgery with limited and restricted vision; afterward, he was completely blind.
While losing his sight at the age of 13 was tragic, it was this experience that opened Mark's heart to the gospel. Mark says, "Five months after losing my sight, I actually heard the gospel for the first time, and I decided to place my faith in Christ for salvation and the forgiveness of my sin." Mark recognizes he had likely "heard" the gospel before, but it did not resonate with him until after his vision loss. He believes the Lord used his physical blindness to create spiritual sight, which made his heart receptive to the gospel."When a person loses sight, it's devastating; depression and anger seem inevitable," Mark shares. "It is only by God's grace that I never experienced those feelings. So when people ask me how I have coped with losing my sight at the age of 13, I tell them it's my faith and my family that carry me through."
As he grew in his love for the Lord throughout high school, Mark decided he wanted to attend a Christian university. He applied to several schools and then went to visit the schools that accepted him to see which campus would be best for him—academically, socially, and spiritually. Cairn University was one of the several schools Mark visited during his college search.
Mark had a very unusual campus visit. He came to the University over spring break, when most of the campus community went home for the week. Despite having no classes to visit, professors to meet, or students to interact with, Mark could feel the "Christ-centered atmosphere" from his conversations with admissions and student life staff. About to graduate from high school, Mark was not completely sure what career he wanted to pursue, but he loved the idea of attending a university where he could study the Bible and theology. The chapels that occurred multiple times a week were also very appealing to Mark, who had always attended public school. Despite visiting the campus on a "cold, damp, wet, and dreary" day, Mark believed that Cairn was "clearly where I belonged."
Mark lived and studied on campus for five years, earning a Bible degree with an emphasis in discipleship counseling. Out of all of his Cairn experiences, some of his favorite memories were what he learned in his courses. Mark fondly recalls his study of the Old Testament Scriptures with Dr. Hardesty as well as his Philosophy, Ethics, and World Religions classes with Dr. Yoder. Joining "The Great Conversation" with Professor Palladino, discussing Romans with Dr. Jacobs, and studying marine science with Dr. Gossard were all valuable learning opportunities that Mark still references almost 10 years later. Likewise, the lessons Mark learned in his Effective Bible Teaching class with Dr. McAlack and his Apologetics course with Dr. Toews have proven invaluable as Mark is on the AWANA teaching rotation at his church since graduating from Cairn.
Throughout his time as a student, Mark was "very impressed" with the services offered by the Academic Resource Center (ARC). Out of all the schools he visited, Mark ultimately chose Cairn because he believed that Cairn's offerings best suited his needs and were superior to other schools' programs. Meeting with an ARC staff member three times a week, Mark was able to get the academic assistance he needed to complete his coursework. Whether the ARC staff helped him acquire or convert textbooks into an audio format; created tactile maps, charts, and graphs that he could learn from through touch; or read books and articles to him so he could complete a research assignment, Mark thanks the ARC staff for being "a significant reason for my success and enjoyment of my education."
Mark also credits the "blind-friendly" campus layout for positively contributing to his campus experience. The small size of the campus and the large, paved walkways between buildings made it easy for Mark to memorize and navigate the campus. Every semester when he got his new schedule, Mark walked the campus with his orientation and mobility instructor to make new routes. He was able to have a working knowledge of the entire campus by his junior year.
After graduating in Spring 2012, Mark began his job search. He connected with Vision Resource Center of Berks County (VRC), an organization about 30 minutes from his home that helps the local visually impaired community. Although they did not have an open position on their staff, they conducted a phone interview with Mark and hired him on the spot—for six hours a month. While starting small at one and a half hours a week, Mark slowly proved his value to the organization as a staff counselor. In just over a year, Mark reached full-time status.
As a staff counselor, Mark conducts one-on-one counseling sessions with clients of VRC and leads monthly events that support those who are losing or have recently lost their vision. In addition to leading a monthly sight loss support group, Mark coordinates guest speakers to come deliver a presentation to VRC clients during Lunch n' Learn, a quarterly event where a guest speaker comes to talk to the clients about how they can overcome specific challenges related to their vision. He also coordinates multiple social outings. Taking suggestions from his clients, Mark organizes outings such as monthly lunches, bowling, apple picking, horseback riding, descriptive movies, dinners, and musicals. His goal is to help his clients get out of their homes and show them that although they are losing their sight, they can still have fun and fellowship. Mark tries to help people living with a visual impairment see that life does not stop because they lost their vision, it simply changes, and they learn to live differently.
In addition to supporting the clients of VRC, Mark is also involved in educating the surrounding community about visual impairment. He regularly speaks to students at Kutztown University, Alvernia University, and local K–12 public schools about interacting with visually impaired individuals. Each month, he also hosts a local television show called In-Sight. This live Q&A session gives visually impaired people the opportunity to discuss the unique struggles that blindness presents. For example, most people are shocked to learn that Mark does not use any social media and that he did not send his first text message until he acquired the technology to do so after he had graduated from Cairn. This monthly program gives Mark and his guest the opportunity to explain these unique circumstances and provide practical advice on how to better engage with those who are visually impaired.
Most of Mark's clients are in their sixties or older and are in the process of losing their sight due to various degenerative eye conditions. While much older than Mark, these clients are able to glean perspective from him. He reminds them that regardless of how someone loses their vision, how quickly it occurs, and at what age it happens, they are all in the same situation—daily struggling to compensate and accommodate for their lack of vision in a very sight-oriented world.
"I learned in my counseling classes that it is very difficult to counsel someone down a road you have never been down yourself," said Mark. "The Lord has blessed me with the opportunity to use my own personal experiences with vision loss, combined with the education I received at Cairn, to provide counseling services to those who need it." Serving nearly 40 people to-date, Mark continues to honor Christ in his role at Vision Resource Center—a career fashioned by a God who does not plan accidents.
Mark's Best Friend
"If they did not know me, they knew my dog."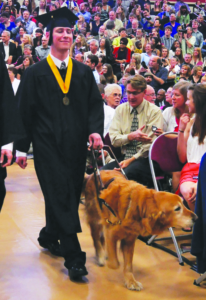 Perhaps the only dog in recent history to guide a graduate across the stage, Jeter became Mark's Seeing Eye dog in June 2007, just three months before Mark began his five years at Cairn. Jeter, an active golden retriever, was Mark's best friend throughout his college experience and into his job at VRC.
However, Mark had to say goodbye to Jeter in August 2014 after his furry guide and companion was diagnosed with cancer.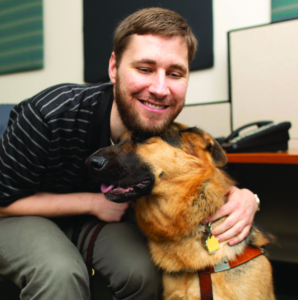 "The hardest day of my life up to that point—hands down—was when Jeter died," said Mark. "I went two years before I considered getting another Seeing Eye dog."
In May 2016, Mark acquired a new Seeing Eye dog named Andy, a German shepherd. As big as Jeter was, Mark ended up with an even bigger dog, who he affectionately calls "my wolf." And just like Mark lost Jeter, Andy had experienced the sudden death of his first visually impaired owner. In a way, both of their losses proved they needed one another. Mark has been greatly blessed by Andy's loyalty and love as he guides Mark, keeping him safe on route, just as Jeter had done for Mark on the Cairn paths and walkways.
---
Lydia Hill is the managing editor of Cairn and communications associate at Cairn University. She can be reached at lhill@cairn.edu.