It's a length of time equivalent to 125,000 days, 18,000 weeks, or 342 years. It's the amount of hours Cairn students have spent in ministry and service since the early days of our institution. It's a figure calculated by the number of alumni, the age of the University, and the hour requirements for service throughout our 105 years.
But it's not just a number. It's a legacy—a humbling reminder that God has allowed us to make a difference for His kingdom throughout history.
While three million is an impressive number, the impact our students have made for eternity cannot be measured by mere numbers or time frames. We are humbled to believe many have heard and will hear the words "well done, good and faithful servant."
For 105 years, we have never wavered from our mission to educate students to serve Christ in the church, society, and the world. Service is foundational to who we are, and our commitment to service is still lived out in the lives of our students.

Our desire, and at the core of our foundation, is to see men and women of character serve Christ in the church. As part of their church service requirement, students have served approximately one million hours as worship leaders, nursery workers, and pastoral interns within the walls of local churches.
Since our beginning, the University has given pastors and other church leaders an education centered on Christ and His Word. We have watched as many of our alumni have become pastors, elders, deacons, and parachurch leaders who execute their callings well.
But this biblical training goes beyond vocational ministry. For over 100 years, we have taught every student to know and read the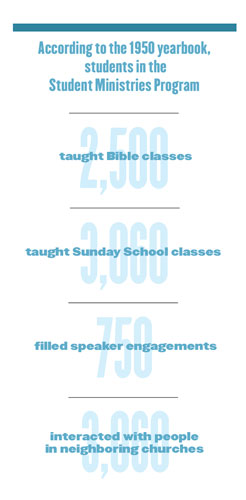 Word of God with clarity and wisdom. We do not just want those who are in vocational ministry to be the ones who are biblically minded. Likewise, we do not just want lay leaders to be the ones who are professionally competent. We hope all our graduates, no matter where they serve in the local church, are men and women of character who are both biblically minded and professionally competent.
Sam Heidengren '22 is a sophomore with a heart to serve the local church. Majoring in business and on track to get his MBA, he has a desire to use his professional skills and biblical education to become an administrative pastor.
Sam is involved in Grace City Church of the Northeast, where he organizes rides for students to come to church each week. The unique education he receives at our institution intentionally fuses biblical mindedness with professional competency. With a heart for people and a mind for business, Sam is already serving the church with his gift of administration.
It is not enough for only the pastor to have a biblical and theological education. We believe we will see healthier, more successful churches when those in the congregation, as well those in the pulpit, know the Word well. And we believe that we will see churches be even more effective as we teach professional skills to our ministry leaders as well.

Our institution has always had a heart to serve the local community. We do not simply prepare students to serve in churches—we want them to serve their neighborhoods. We do not simply educate students to serve the nations—we want them to realize the nations may be in their backyard.
In 2007, a group of social work and education students decided to take their project for their Social Work Organizations class and turn it into a functioning ministry. It was then that THRiVE was born. Over the past 10 years, THRiVE, located in the Kensington neighborhood of Philadelphia, has seen hundreds of children pass through its tutoring and mentoring program.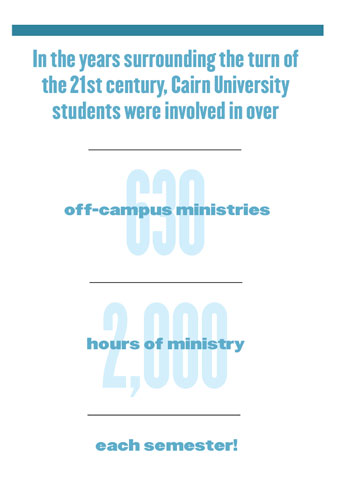 One of those children was Leona Chisolm '19. She came to THRiVE unsure of what to expect. She was a 10-year-old walking five blocks with her younger brother who was used to unstable environments and desperately in need of a safe place. At THRiVE, Leona found safety along with the individualized homework help she so desperately needed.
"When I came into THRiVE, my depression was really bad. I was being bullied and was dealing with a ton of trauma," said Leona. "It was great to have someone come into my neighborhood to mentor and love me. THRiVE saved my life in every aspect."
The mentorship provided by Cairn students made Leona interested in attending Cairn as well. When she began attending the University, she also began to volunteer with THRiVE. Leona saw so much of herself in these children, and she is now able to give these children what she herself needed so much when she began.
In 2017, Leona took over THRiVE as its key student leader. She coordinates volunteers, oversees logistics, and works with the host church, Cornerstone Community Church, to ensure collaboration and an ongoing understanding of what the children of Kensington need.
Today, with almost 10,000 collective hours under its belt, THRiVE continues to operate as an effective way for students to love the children of Philadelphia and serve Christ in society.

With a mission to educate students to serve Christ in the church, society, and the world, we have been honored to watch our students and alumni serve in global missions. We believe that just as Christ said to His followers that they would be His witnesses "in Jerusalem and in all Judea and Samaria, and to the end of the earth,"(Acts 1:18). Our ministry must extend well past our local geography as well.
From Mexico to Bosnia, Egypt to South Africa, The Philippines to Northern Ireland, and beyond, our students have answered the call to go. They have helped with Bible translation. They have used sports as a way to reach children. They have provided aid to Syrian refugees. They have led worship in the far east corners of Europe. They have built a medical clinic in the hills of Kenya. The list goes on.
Annie Vincent '22 is a dual-level psychology (BA) + MS in Counseling major who hopes to one day provide counseling to refugees and trauma survivors in the Middle East. While her mission trip with Cairn in March 2018 to Moria Refugee Camp (Lesvos, Greece) was not her first experience in missions, she says, "The trip broke my heart in inexplicable ways. God used my time there to grow my love for displaced and traumatized people, confirm my career choice, and refine my vision for the future."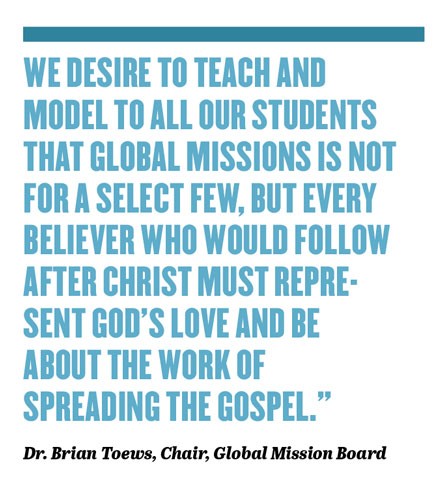 After her time in Greece, Annie spent her summer serving refugees in Lebanon, where she learned about long-term, sustainable, cross-cultural service. In Spring 2019, she will be spending a semester abroad in Jordan to further her Middle Eastern studies by experience and cultural immersion.
She is not alone. Annie, like many other students and alumni, is a testament to the longevity of ministry that begins through service in a short-term capacity. While our trips may be short-term, their impact is far from it.
Cairn University exists to educate students to serve Christ in the church, society, and the world. Throughout all that history has brought our way, this University has been continually blessed by students who are faithful to their service to Christ. From that old street corner in Philadelphia to the present day, we're three million hours in, and we're not finished yet.
---
Stephanie Bernotas graduated from the University with  degrees in Bible and social work. She is the coordinator of student ministries at the University. She can be reached at sbernotas@cairn.edu.