Brandon grew up as a "back-to-school shoes" kid, getting one new pair of sneakers each year. He didn't give too much thought to what he put on his feet each morning until his high school best friend gave him his first pair of retro Jordans, the Military Blue Retro 4s. It was this first pair of shoes that turned him into a self-proclaimed "sneakerhead."

"I really love learning more about the culture that comes with sneakers, which includes sports, history, and fashion. Sneakers are a unique way to express yourself or even voice an opinion about something. They have almost become an art."
When looking for a job while studying at Cairn, Brandon believed that Foot Locker would be a great fit. For Brandon, the saying "If you love what you do, you'll never work a day in your life" rings true. Every day Brandon gets to "talk sneakers and sports" with his customers, and his passion for his work has driven him to success. In a store that does $3 million in annual sales, Brandon leads the store in sales per week and sales per hour, making him one of the top salesmen in the district. He has been Employee of the Month three times, and has received five Certificates of Excellence.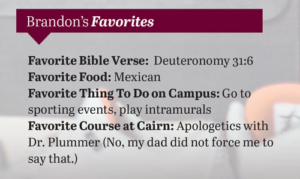 It was after he made a LinkedIn post about one of these awards that he was contacted by Robert Perkins, Foot Locker's Global VP of Talent Management. Robert told Brandon that he should consider interning at the Foot Locker Global HQ in New York City. Needless to say, Brandon was very interested in the position.
Brandon is now spending his summer in New York, working full-time as a talent management intern at this eight billion dollar, Fortune 500 company. This internship has given him the opportunity to meet Foot Locker CEO Dick Johnson and many other high-profile employees.
He is currently preparing for a large group presentation to these executives on developing an idea for an exclusive concept for women that can be sold and brought to market at Foot Locker's North American destinations.
Brandon is building a career doing what he loves, but he's doing it all for a higher purpose. In his own words, "Your occupation can be much more than just an occupation. You can work hard and leave an impact on people's lives by leading, loving, and treating people the way Jesus did—even by selling sneakers."