Dr. Matt McAlack graduated from Cairn University in 1983, receiving a BS in Bible. He received his Master of Theology degree from Dallas Theological Seminary and a PhD from Temple University. He began teaching at Cairn in 1995 and currently serves as the director of the youth and family ministry program in the School of Divinity. He has directed JAM (Junior High Adventures in Ministry) since 1996. He also serves as a youth pastor at Calvary Baptist Church in Bristol, PA.

How did you first get involved in youth ministry?
It started when I was a teenager. My family went to church and I went along but I wasn't into it. Every week people invited me to come to youth group and I would make up lame excuses. But one week a girl I liked was going, so I went. It totally wasn't what I expected. The leaders were real people who lived out the Bible and when they taught it, it made sense. And they loved me. That experience changed my life.

All three of your sons are also youth pastors. Did you try to make this the family business?

Not at all. It's surprising because they all started in other directions and then felt God's call to youth ministry. So it was never my plan, but I love it.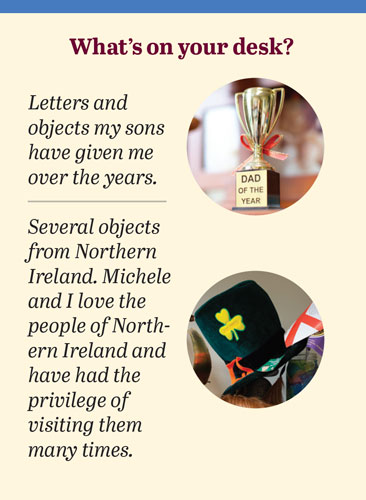 What is the biggest change you have seen in Cairn since you were
a student?
The number of programs we have. When I first came, a lot of programs were related to professional ministry. I think every major is in ministry whether you're in business or social work or psychology. Now, people are being equipped to go into these areas where there is no real gospel witness. But there is still a great need to equip people to be in church and parachurch ministries, so that's really a big part of my life.

What is an interesting story from your time as a student?

I joined the soccer team in the summer of 1979 when we moved to this campus, and I hadn't met the team yet. Near where the president's house is now, I saw some guys trying to use a lawnmower to cut this huge, overgrown grass. It was taller than their heads. I went over and said, "I'm trying to find the soccer team. Do you guys know where they are?" And they said, "Yeah that's us, and this is our field!" The field was sloped and the goal posts sagged in the middle, but we played all our games out there.

Juston Wolgemuth '19 is a graduate assistant in the Communications & Marketing department. He can be reached at jwolgemuth@cairn.edu.