"Hmm. Well, let's see. Do you like milk chocolate, or do you prefer darker, bittersweet flavors?" I'm standing in line at Calm Waters Coffee Roasters in Bristol, PA, watching as the barista takes his time to help another customer choose from the variety of coffees available. I don't mind waiting. In fact, I find the whole exchange rather interesting. It seems like nobody else in line is in a rush either.
After answering a few more questions, the person in front of me is guided to the Ethiopia Sidamo.
"Great choice. That's a favorite of mine. I'll ring you up real quick, and Jeremy will have your drink ready for you at the end of the counter."
Now it's my turn to order. The employee is just as attentive, just as patient, and just as eager to serve me as he was the last person. Two Americanos in hand, I sit back down with my wife, who is in the middle of a conversation with the woman one table over. Her name is Carolyn.
When she learns that I'm writing a story about some of our alumni who are using coffee as a catalyst for community development, she lights up and begins to rave about the shop. "Andrew and Jodi always say it's all about the customers, that it's the customers who make the place. But I say it's definitely the people behind the counter. They are very loving, very caring. They've even prayed with me a couple times when I was going through some stuff."
Before my mug is empty, it's clear that there's more than just coffee to this coffee shop.
Andrew Dittman '11 started roasting his own beans in his apartment during his final year in Cairn University's camping ministries program in Wisconsin. "There wasn't any good coffee up there, so I decided to make my own," Andrew jokingly remarked. It was there that he started to dream of owning his own coffee shop. This dream led him across the country and back again, working and learning at a number of cafés and apprenticing at an established roaster.
Andrew and his wife, Jodi, fully intended to return to Wisconsin to begin their business. But through a series of subtle and not-so-subtle nudges, it was clear that God was calling them to the east coast instead. In 2014, the Dittmans opened Calm Waters Coffee Roasters in Bristol, PA, just 15 minutes from the University.
Bristol was a shining star of a town that fell on hard times a while back and never quite fully recovered. The town is full of history and diversity, but during the years before the Dittmans opened their doors, Mill Street (Bristol's "Main Street") was lacking life and a strong sense of community. There was no place for people to come together. Calm Waters would help change that.
The Dittmans were never interested in just running a coffee business. They desired to create a space where people would feel genuinely welcomed and cared for. "Coffee is such a people product," Andrew observes. "There's just something about the customer-to-barista relationship. People open up so quickly about their lives while they're waiting for their coffee."
They not only train their staff on how to pull a fantastic shot of espresso, but also on small ways to connect with the people they're serving. "For example," Andrew explained, "I coach my team to always make eye contact with their customers. Even for just five or ten seconds. Be present for them." You can make a great impact without grand gestures. The Dittmans have watched people change and grow in surprising ways over the years of serving their customers daily and showing them regular acts of kindness.
"They not only train their staff on how to pull a fantastic shot of espresso, but on small ways to connect with the people they're serving."
"I'm here all the time!" boasted Kristine, the owner of the salon next-door. "You can't get a better cup of coffee. And I love the community. Everybody knows everybody, and we have so many great conversations." Kristine is one of over 20 business owners who opened up shop within the last three years. Several of them have credited Calm Waters—which will be celebrating five years of business in August—with inspiring them to bring their families and their businesses to the Borough.
"We have not at all made Bristol what it is," Andrew and Jodi insisted, "but maybe we've played a role in connecting people to what's already here." Having a space available to sit and have face-to-face interactions allows people to connect more closely with their neighbors. The community has always existed. The Dittmans have simply set a table and invited people to sit down together.
---
Meanwhile, on the other side of the world, Christine '09* and her husband are running their own experiment with the connective properties of coffee.
While living in the Philippines, Christine and her husband mentored entrepreneurs and mobilized workers to other parts of Asia. They found coffee shops to be prime locations for business meetings and recruitment events. "When we invited people to meetings at churches, maybe two people would show up," Christine recalled, "but when we started holding the events in coffee shops, we were fully booked." The coffee shop events were so successful, in fact, that it wasn't long before they began toying with the idea of starting their own café. In 2017, they opened Dialogue Coffee.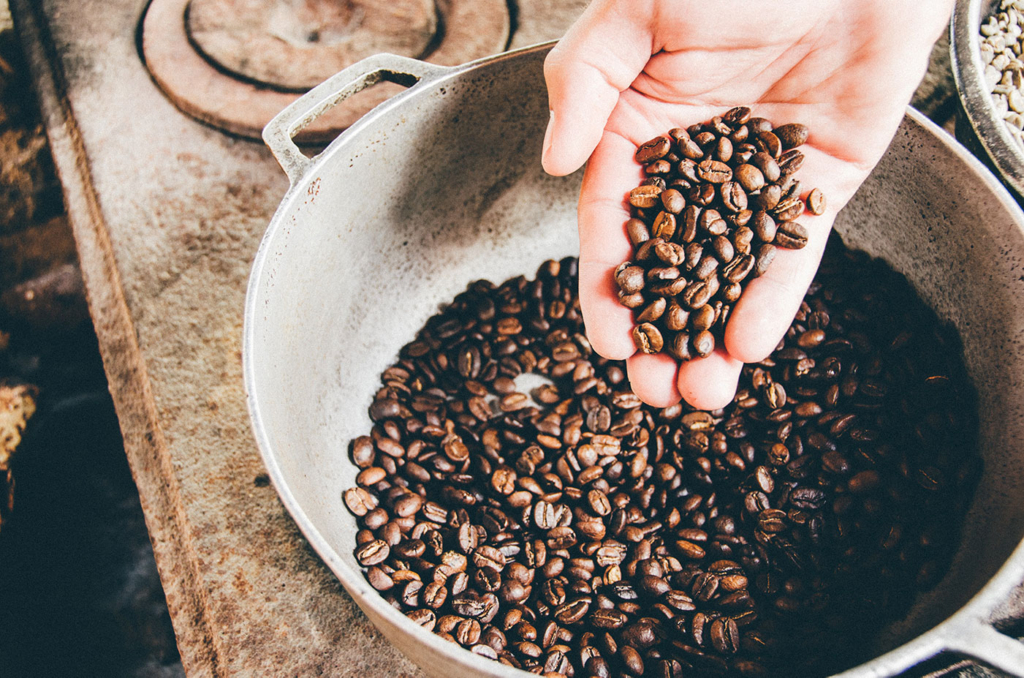 "We were super naive about the business side and profitability of coffee shops," Christine confessed. They planned to use profits from the shop to fund other initiatives, but they quickly learned that margins on coffee are incredibly slim. While the original idea didn't quite pan out as expected, Dialogue was creating amazing opportunities for Christine and her husband to live life alongside other people in the heart of Manila's business district. The shop itself became the focus of their ministry.
In a world where coffee is often viewed as the caffeine-rich accompaniment to a fast-paced lifestyle, Christine's team subscribes to a philosophy of slow
coffee. Dialogue is modeled on the old Japanese style coffee shops, or kissatens: a very small space with only a few bar-stools that surround the barista. Nothing is prepared ahead of time. When a guest orders a coffee, it is hand-brewed fresh, usually using a pour over method that can take 4–5 minutes to complete.
Dialogue's tagline invites people to "come in and slow down." While customers wait for their coffee to brew, the barista has the opportunity to strike up a conversation—not just about coffee, but about life in general.
Christine and her staff may ask questions such as, "What brings you to Dialogue today?" "What sort of coffee do you normally drink?" or "How do you take care of yourself, having such a busy city life? Because, to be honest, I'm struggling right now!" These interactions can quickly progress from safe small talk to deep and vulnerable conversations. Customers are drawn to Dialogue, not only to enjoy a high-quality cup of coffee, but also to slow down and savor a moment with the community that gathers around the counter.
Coffee shops are fertile ground for relationships. Just like anyone can drop a handful of seeds in a plot of good soil and expect to see some sprouts, most anyone can open a coffee shop and have some of these dynamics play out. But it takes an extra level of intentionality and commitment for a garden to really flourish.
Andrew and Christine both strive to find the right point of tension between pursuing excellence in their craft and excellence in their care for people. By doing so, they offer a potent blend of love and service that has fostered meaningful relationships with their customers and opened doors for the gospel to be shared clearly and tangibly. Make no mistake, pouring a cup of coffee is not simply a front for "real ministry." It is the inextricable weaving of their faith and their love for others into their everyday work. Loving their customers as much as possibly by providing them with the best experience as possible is their witness. God is glorified through our skillful and selfless acts of care. A cup of coffee poured with love can be filled with the potential to make an eternal impact.
"There is value in simply making a cup of coffee without an agenda," said Christine. "People are spending their hard-earned money on this. I want to brew this cup of coffee to the best of my ability, offer genuinely friendly customer service so they feel loved, and do it all as an act of worship unto the Lord."
*Some names and details of this story have been changed due to the sensitive nature of their current work.
David Steininger G'18 is the digital marketing manager at Cairn. He can be reached at dsteininger@cairn.edu.
---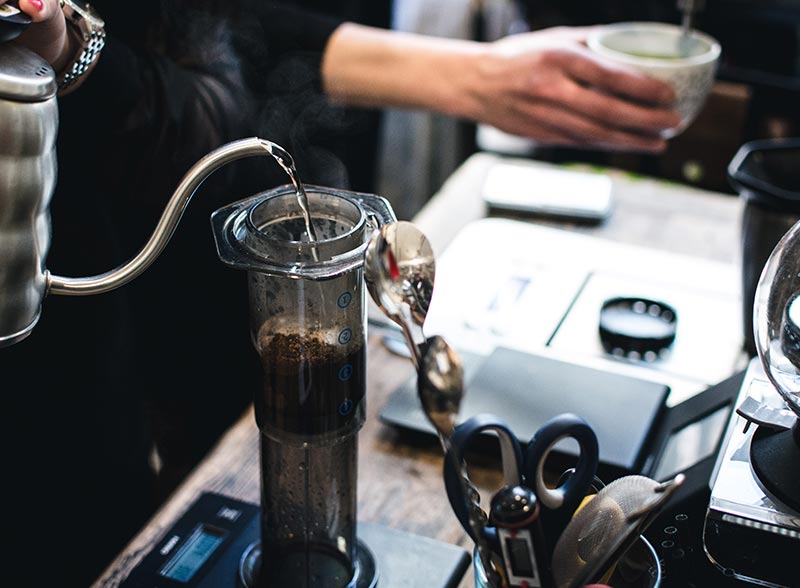 How to make the best coffee at home (according to Christine)
Recipe for Aeropress

STEP 1: FOLD & RINSE
Start by placing a round Aeropress paper filter into the perforated Aeropress cap filter cap. 

Tightly screw cap with filter in place onto Aeropress.  

Using 150 ml of hot water, rinse the paper filter and preheat your Aeropress. 

Place preheated Aeropress on your cup/server on a scale.
STEP 2: GRIND
Weigh out 15 grams of coffee beans. You may adjust the amount later if you feel like you want to increase or decrease the strength and body of your brew. 

Grind your coffee to a grind size that is about half way between fine and medium. It should be somewhere between the size of table salt. 

Place your ground coffee into the preheated Aeropress. Once the coffee bed is in the Aeropress, tap your Aeropress to level the coffee bed.
STEP 3: PREINFUSION
Start your brew by getting rid of all of the trapped carbon gasses in your coffee. Those gasses will make it harder to achieve an even extraction. 

To do this, start your timer and pour 32ml of water into the Aeropress, stirring 10 times in order to ensure that the coffee bed is evenly pre-infusing. 

Allow this to sit until the timer reaches 30 seconds.
STEP 4: MAIN POUR AND PLUNGE
Add the remaining brew water until your scale says 220g. Pour at a moderate rate so that you reach finish pouring to 220ml by 1 minute. 

Stir your coffee slurry 10 times and then gently press the plunger into place at the top of the Aeropress. Move your Aeropress and mug/server off the scale. 

Once the timer reaches 1:30 begin to press on the plunger with moderate pressure. If you have to push too hard, it means your coffee was ground too fine. If the plunger goes down without much resistance, then your coffee was too coarse, try grinding finer. Be careful not to push too hard as this will make your final cup a bit dirty.
STEP 5: SERVE
Once you hear a hissing sound stop pressing on the plunger. Remove your Aeropress from the cup or server and set aside. 

Stir or swirl then serve!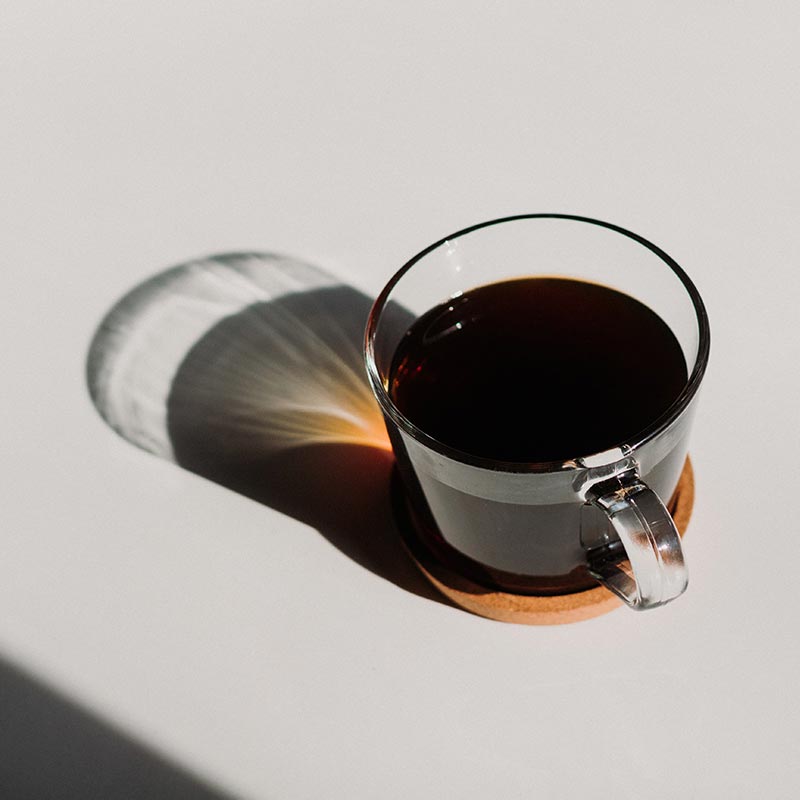 How to make the best coffee at home (according to Andrew)
Recipe for auto-drip coffee makers

We always recommend starting with a ratio of 1:18. If brewing a pot on a regular home automatic coffee maker, a simple translation of this would be 1 liter of water to 56 grams of ground coffee (Basically take the amount you want to brew in milliliters and divide by 18).
Adjust according to the strength you prefer.
At the end of the day it's not about following a "golden recipe" more than it is learning to brew a cup that makes you smile.