Just over a year ago, the Mason Activity Center Gymnasium was bursting at the seams. Students, faculty, staff, alumni, and parents filled the room, creating a sea of black T-shirts that took over the bleachers and spilled out into every free corner of the gymnasium. It was the men's basketball Colonial States Athletic Conference (CSAC) championship game, but to those in attendance, it might as well have been Game 7 of the NBA Finals. By matching every point earned with thunderous applause and ear-piercing cheers, the crowd proved to the opposing team that the home-court advantage of the Highlanders may be the largest obstacle between them and the conference title.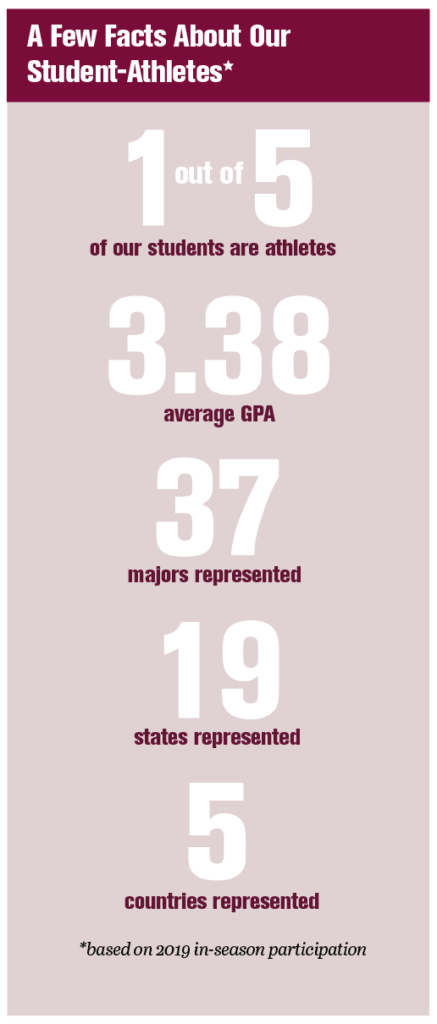 Despite all the efforts of the team and the crowd, Cairn lost in a heartbreaker, just three points short of what would have been the team's first conference championship. But the final score and the pain that came with it are not the memories that fans took home with them. As people filtered out of the gym and reflected (even a whole year later) on that game, their memories were not drawn to the shots made or missed as much as they remembered the tangible, infectious energy of the entire campus community celebrating together.
Like any other team, our athletes want to win, and they work very hard
to do so. Day in and day out, grueling practices and sore bodies prove to be the price for athletic excellence—and if you ask our players, it's all worth it. But even among our most competitive players, there seems to be an awareness that championships certainly are something, but they're not everything.
Whether all of the hard work results in a championing win or a devastating loss, the season records, championships and athlete awards only make up a fraction of the value that athletics brings to Cairn. Our robust athletics programs—and most importantly, the students who fill our rosters and bleachers—enrich our life together at the University in ways that uniquely support the mission of our institution.
Student–Athlete Mentorship and Discipleship
The goal of all NCAA DIII programs, of which Cairn is part, is to "place the highest priority on the overall quality of the educational experience and on the successful completion of all students' academic programs . . ." rather than prioritizing their athletic performance. Hosting NCAA DIII athletic programs, the University is not permitted to offer athletic-based scholarships, student-athletes cannot skip class for practice, and teams must abide by strict regulations for on- and off-season practice and competition.
This has a distinct effect on how and why students decide to pursue athletics. Because of the Division structure, DIII athletes compete for the love of the sport—not for scholarship money, notoriety, or hopes of professional play. It takes a hearty amount of self-discipline to weave a packed in-season athletics schedule into a semester that already holds a 12–18 credit course load, in addition to a disciplined spiritual life, a job, relationships, and other extracurricular programs. The athletes have a small community of mentors—namely, their coaches, teammates, and athletics staff—who encourage them through this process. But athletic participation at this level is certainly both a pleasure and a sacrifice in equal measure.
While all DIII coaches help their athletes improve athletic performance and do well in their studies, coaches at Cairn have the additional responsibility of helping their athletes develop spiritually. In season, student-athletes spend an average of well over 10 hours a week with their coaches. Our athletes are often spending more time with their coaches and teammates than they are with anyone else, giving our coaches a great opportunity to disciple their teams to become more like Christ.
"Wins and losses don't define our success," said Jason O'Connell, head coach for men's basketball. "10–15 years down the road is when we find out how successful we were as coaches." The stakes are much higher than the students' performance during their four years on campus. Goals are scored. Games are won. Grades are earned. Diplomas are received. But the most important role a coach plays in the life of a student is not measured by students' improving athleticism or increasing GPAs, but by the growing maturity of their hearts and their love for Christ and His Word. Whether it's player-led team devotionals before every game or heart-to-heart conversations after a practice, our coaches take advantage of these extra opportunities to disciple their athletes into men and women of character.
Campus Life and Community
Robust athletics programs enrich the University experience for our student- athletes, but our student-athletes enrich our campus in ways that far outweigh what our athletic programs could ever offer. About every other afternoon or night of the week, you'll find students on the bleachers. Obviously, the players benefit from a bleacher full of fans. But the more subtle, and equally as important, benefit is the space these games create for non-student-athletes to come together.
If you've been to an athletic competition in recent years, you may have noticed a coordination across students in the bleachers. Sometimes it's a complete "whiteout" or "blackout." Other times it's animal or Christmas pajamas. Occasionally, you may even see a T-Rex or Superman. These themed fan nights are not unlikely coincidences, but the efforts of the "Cairn Crazies." Their bleacher antics err on the side of ridiculous, but the Crazies have breathed new life into the fan section at the University, as they've rallied students together to attend games throughout the year.
Jon Simpson '20, a senior youth ministry student, is leading the charge of the Crazies this year. While he is now a well-known personality on campus, he was not always a face that everyone recognized. New on campus and an introvert at heart, freshman Jon Simpson spent most of his downtime alone in his dorm room. But that changed when he started playing volleyball and went on a mission trip to Egypt with other student-athletes.
"These experiences gave me the opportunity to find community on campus," said Jon. "And now that I lead the Cairn Crazies, I want to make each game an opportunity for students to be involved with what's happening at Cairn."
As Jon has noticed, each game gives students the opportunity to leave their dorm rooms or stay on campus long after their classes are over. Just like music, the arts, or any number of student organizations, athletics is another opportunity on campus that allows those participating to celebrate their gifts and abilities and allows the larger community to celebrate with them.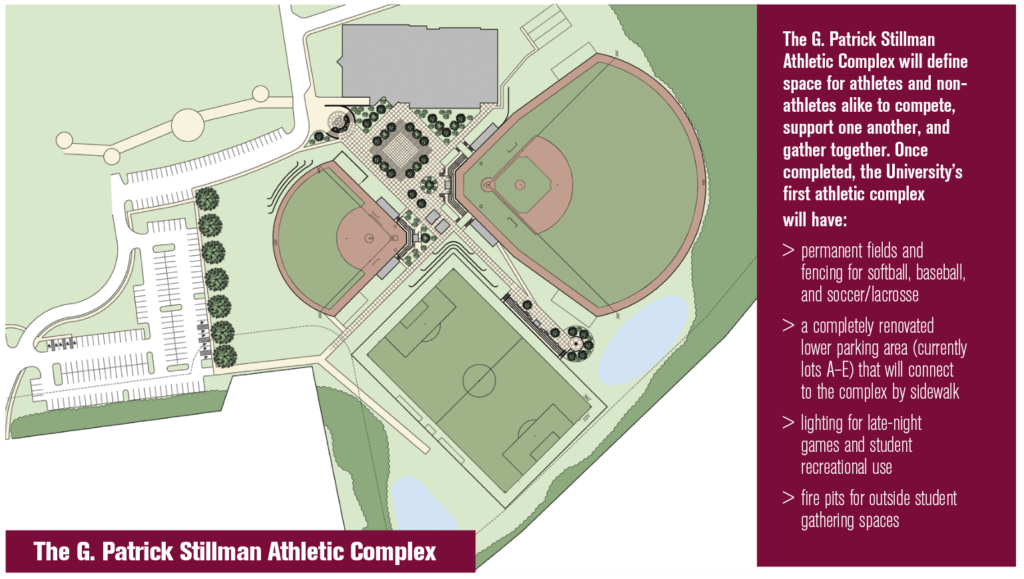 Off–Campus Sportsmanship and Witness
When our campus comes together to celebrate and support our student-athletes, it's not just the home team that takes notice. Every game provides the opportunity to give the opposing team a taste of the Cairn University culture, and whether that is a good or bad impression is dependent on the words, actions, and attitudes of our student-athletes and fans. Knowing the incredible opportunity that each game offers to be a witness, our coaches intentionally disciple their athletes to play in a way that exemplifies Christ. And while they are not perfect, our student-athletes play with the intention to show their competitors how Cairn students—and ultimately, Christ-followers—play the game differently.
"We really respect one another," said Sara Hayduchok '20, a captain of the women's soccer team. "You'll see teams arguing with each other, blaming each other and their coaches . . . but we aim to not only respect ourselves, but also our opponents, their coaches, our officials, our spectators, and their families."
Schools have taken notice. In the CSAC, the 3-D Award is a sportsmanship award that is awarded to one deserving team each season in a particular sport. At the end of each season, the conference teams grade one another, allotting the highest amount of points to the team that best represented the mission and values of the conference throughout the season. Nearly all of the University's athletics teams have won this award at least once since it was created in 2011, and the women's soccer team has won this award a total of seven times.
Consistently respecting all participants of each game distinguishes this team from the rest. But, as Sara said, "you can be the kindest player, you can be the hardest-working player, the most determined and most respectful, but Jesus isn't spoken in those times." So to be a light to every team they play against, they write notes of encouragement to give to every woman on the opposing roster after the game. Then to close, they ask the opposing team to pray with them. This invitation is almost always accepted.

Our student-athletes understand that how they carry themselves as athletes has a much more lasting result than the game's score. Athletic competition gives our students the extra opportunity to be discipled; to enhance campus life; and to interact with those who do not know Christ, showing them how knowing Him makes one live and play differently.
---
Lydia Garrison '18 is the communications specialist at Cairn. She can be reached by emailing lgarrison@cairn.edu.