Amidst a disrupted semester, Meghan Gabriels '21 finds more time to create.
Bouncing from activity to activity, fine arts major Meg Gabriels has made her mark on Cairn's campus. From the Arts & Culture First Year Program, to cross country and volleyball, to involvement in clubs like Mu Kappa and Student Visual Art Society, and even a couple years spent as an RA, Meg has done a little bit of everything that Cairn has to offer.
Since the COVID-19 crisis uprooted her normally busy routine, one might assume that she had a difficult time transitioning. While she faced initial disappointment, Meg found the social distancing practices to be a welcome change of pace. Without the restrictions of her typical schedule, Meg had more time last semester to explore her personal passions—particularly art.
Passionate about art from an early age, Meg often felt that she lacked the dedicated time to create with all her beloved extracurriculars. Throughout her time as a student, Meg has struggled to find the right balance between participating in campus life and dedicating time to her art. She said that despite her love for all her extracurriculars, "it's been a tug-of-war of wanting to be involved in everything and wanting to be a master at everything. But that's just not possible."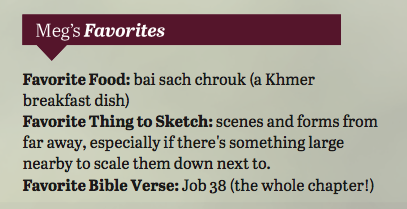 Since her schedule opened up, Meg said that her creative process was "so much easier, since I can work uninterrupted for hours." In her free time she managed not only to create for her classes, but also create for herself and explore new mediums. She has turned to digital art in her free time: "I feel like I can be a lot more experimental with digital art, and I'm not afraid of moving forward and trying new things."
Social distancing did not restrict Meg, but gave her opportunities to expand her creativity. While she is happy to be back on campus for a hopefully more normal senior year, she values the time this season gave her to cultivate her creative passions and create more balance in her life at Cairn.
---
Kaitlin Hakes '20