Music major Cassie Perednia '22 puts her performing skills to work at a singing ice cream shop.
For the past two summers, Cassie Perednia found a role as a paid performing artist—alongside that of an ice cream waitress. A stone's throw from the beach in Lavallette, NJ, stands The Music Man Singing Ice Cream Shoppe: an interactive theatrical dessert stop that combines fun melodies and whipped cream toppings. There Cassie serves patrons their ice cream orders followed by a singing and dancing performance by her and her castmates.
Two years ago, Cassie left Cairn for summer break in search of a job. A friend told her about openings at The Music Man for the role of hostess, where she would assist the servers/performers by managing reservations and seating. She got the hostess job, but before the season began, the shop was in need of more performers. Cassie then sealed her spot on the cast with an audition video performing "I Don't Want To Be Here" of Ordinary Days and "Many A New Day" from Oklahoma. Now, Cassie plays a major role in this musically interactive experience, performing numerous songs, from Disney to musical numbers to pop.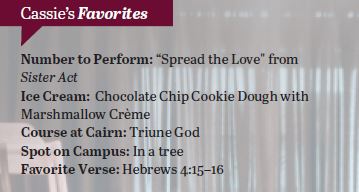 The well-known shop draws in vacationers and notable figures; for example, Cassie once performed for Kevin Jonas and his family. Though Cassie expressed that performing for a Jonas brother was "terrifying," she felt her rendition of "Beauty and the Beast" went well. She recalls serving Kevin an iced americano, to which he responded, "you're amazing." Walking to her next customer, she thought to herself, "Oh my gosh, Kevin Jonas just called me amazing!"
The shop has a headshot hung for every castmate of the past 19 years. Cassie's photo is already up there, serving as a reminder that one day she, too, will be a part of the shop's history. This short-term summer gig has allowed her to use her voice and love of music to make people happy, and she plans to continue that in her career as she explores grad school options for music therapy. "I love the fact that I can help people using the gifts that God has given me," Cassie explains. "I think it helps them, but it also helps me, seeing the faces of people finding joy in music."