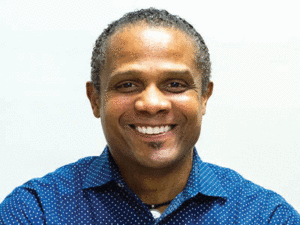 Cedrick Brown '96 grew up in Compton, CA, a diverse city overwhelmed with substance abuse and violence. After receiving a scholarship to play football at Washington State, however, Cedrick found himself in a completely different environment: a predominantly white, rural area. It was during his time in Washington that he was invited into the home of a family with a different race and culture for the first time. This family would also be the ones who would lead him to recommit to his faith in Christ.
With only a semester left in his hospitality management program, Cedrick dropped out, opting to pursue a career with the NFL. After two seasons of camps with the Eagles, he began a successful business career. But as Cedrick balanced his career with investing in others' lives by leading Bible studies for the Eagles players or filling the pulpit at his local church, he felt God leading him toward full-time ministry. He responded, attending Cairn's Degree Completion Program to earn a BS in Bible to better equip himself for this calling.
Shortly after graduation, Cedrick's heart was led to plant Commitment Community Church, a "Place For All Nations" in New Jersey. For 25 years, he has been shepherding and loving one of the largest multi-ethnic church communities in the state. Looking back, Cedrick praises the Lord for using all of his diverse experiences to foster a love for all people, bringing them the gospel that is for every tongue, tribe, and nation.