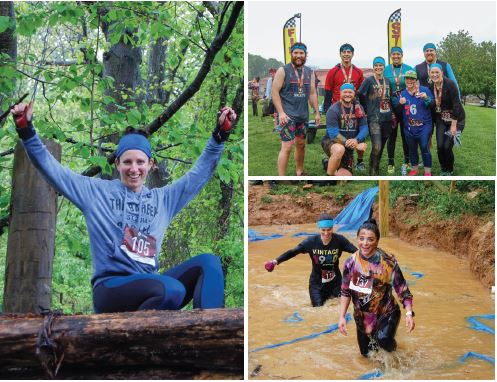 In April, the University held the second annual Highlander Mudder. The second run of this unique event garnered the attention of over 200 participants. Over 30 obstacles were constructed over the two-mile course. Participants took on challenging obstacles such as climbing over walls, crawling in the mud, and pulling themselves across the pond in a canoe, ending the race with a steep slide into a final mud pit.
Both returning and first-time mudders embraced the rainy weather and broke the records of the previous year. Six runners finished the course in under 30 minutes, including male record-holder Brett Milks (25:35). AyliGrace Munro broke the fastest female course record with a time of 36:25. The participant age range remained just as diverse as the inaugural year, with the youngest participant being just eight years old and the oldest participant being over 60.
Because of the generosity of participants and volunteers, the mudder raised $4,875.60 to support Cairn University Athletics. Join us next year for the third annual Highlander Mudder on Saturday, April 20, 2024.