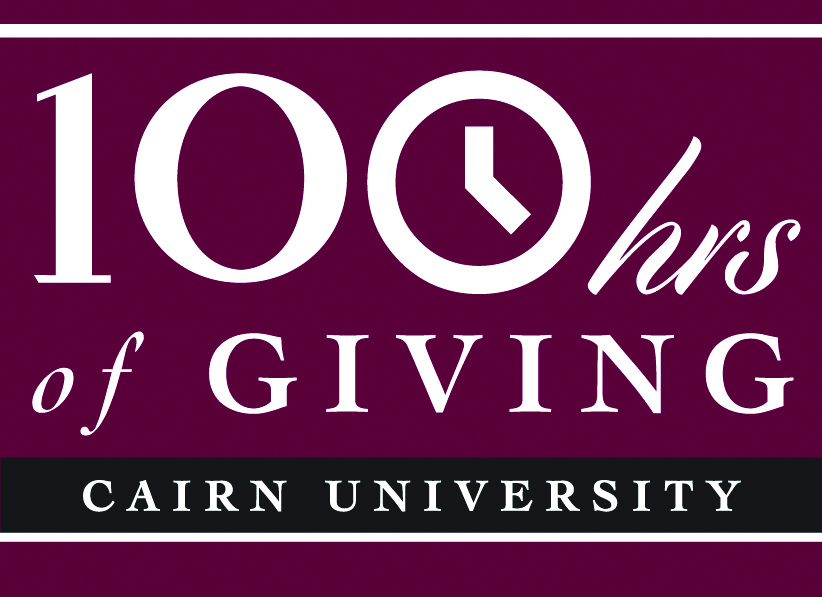 Thanks to the generosity of alumni and friends, Cairn's 100 Hours of Giving campaign moved the University one step closer to its goal of raising $1 million for student scholarships.
[framed_box width="350px" align="right"]
CAIRN PLAYED AN INTEGRAL ROLE IN THE LIFE OF MY KIDS— TWO WHO ATTENDED CAIRN AND A THIRD WHO VISITED THERE ON WEEKENDS WHILE AT WEST POINT. THEIR OUTSTANDING BIBLICAL EDUCATION AND OPPORTUNITY TO BE SURROUNDED BY CHRISTIAN FRIENDS WAS INVALUABLE TO THEIR COLLEGE EXPERIENCE AND LIFE IN GENERAL."
—MARY KNEELAND
[/framed_box]
Beginning on Tuesday, April 29th at 5 pm, the Cairn community came together to contribute to the Cairn Fund — supporting student scholarships, as well as new academic initiatives, the fine arts, and athletics. For 100 hours, every gift was matched dollar-for-dollar, making twice the impact for students and their biblical education.
For many students and alumni, 100 Hours of Giving served as an initial introduction to The Cairn Fund. In addition to giving, students and alumni embraced the campaign by sharing stories about the impact of Cairn in their lives and communities.
The response to the 100 Hours of Giving campaign has the University confidently on track to meet its Cairn Fund goal by the end of the fiscal year, June 30th.
Interested in hearing more stories from students, parents, and friends of the University? Visit the campaign page at cairn.edu/100hours.