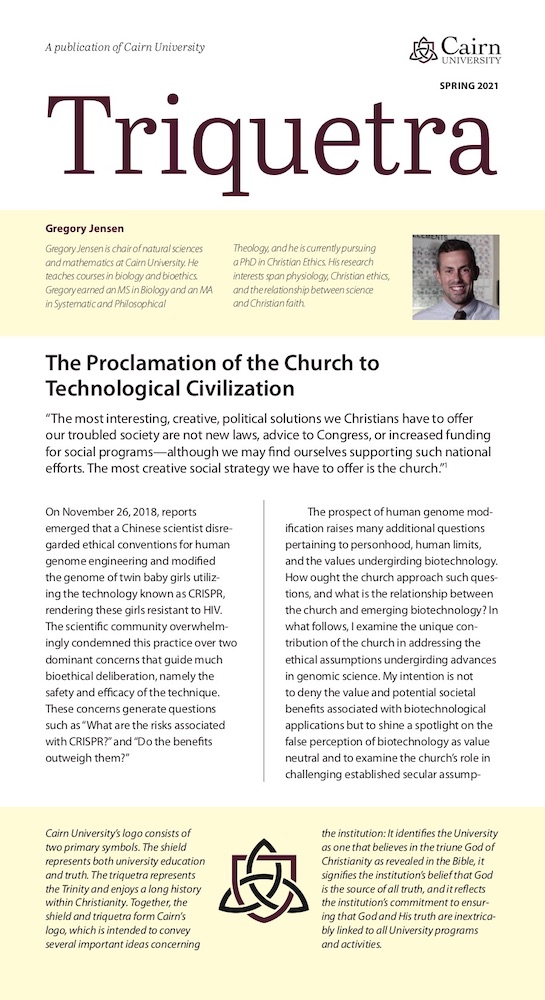 At the end of 2020, Cairn launched Triquetra, a new quarterly publication that is free to all subscribers. In this new journal, faculty, staff, and friends of the University offer a scholarly Christian take on important issues of the day.
Bringing the ethos of Cairn University into sharp focus, each edition of Triquetra contains an intellectually stimulating article or transcribed speech, informed by a biblical worldview, upon which the Cairn community may reflect. Previous editions included words from President Williams and an interview between the dean of the School of Divinity, Dr. Keith Plummer, with Jay Kim, author and pastor in Silicon Valley. The latest issue spotlights Cairn's chair of natural sciences and mathematics, Greg Jensen, with his article, "The Proclamation of the Church to Technological Civilization." Along the lines of Jensen's current doctoral work in Christian ethics, the article considers recent scientific advancements in biology, including technologies that enable human genetic engineering, and how the church might respond.
Sign up to receive a free hardcopy of each new issue, or read the full article and previous issues at cairn.edu/triquetra.