Abigail Varghese did not anticipate being vice president of Cairn's Student Government Association (SGA), or even being at Cairn for that matter. Attending Cairn as a dual enrollment student in high school was the extent of her plans at the University. But as the time came for her to begin college full-time, Abigail felt an unexpected call to stay at Cairn. In addition to the solid counseling program, Abigail says she decided to stay because "God opened up many places for me to be able to get involved. In a larger school, I wouldn't be able to get as involved as I am now. I am beyond thankful for how God has provided and is continuing to provide."
Abigail recalled how her experience throughout high school conditioned her not to get deeply involved with the school for fear of doing poorly in front of her peers. So during her freshman year at Cairn, when she briefly considered applying for SGA, she immediately shut her laptop, assuming that was not the path God had equipped her to follow. Abigail soon learned, however, that God had something different in store. She eventually felt compelled to apply and was voted in as vice president. Through this opportunity, Abigail has been encouraged by getting to know and working with fellow students and faculty, especially as she considers her future.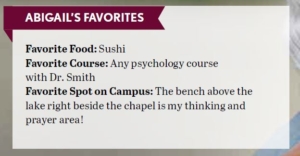 Throughout all the unanticipated changes in Abigail's college journey, she reflects that "God really does stop you and change your plans—and I wouldn't change that for anything." Every step of the way, Abigail has seen God work in ways she had not anticipated. As she continues to learn to trust the Lord, she looks forward to her hopes of earning a master's degree in counseling. Subsequently, she desires to take her education and her passion to broken families and teens that struggle with mental health. She draws her motivation from Hebrews 4:14–15: "Since then we have a great high priest who has passed through the heavens, Jesus, the Son of God, let us hold fast our confession. For we do not have a high priest who is unable to sympathize with our weaknesses, but one who in every respect has been tempted as we are, yet without sin." Just as Christ sympathizes with our weakness, Abigail wants to extend that same sympathy wherever God places her.