[info]
Faculty, staff, administrators, students, and alumni have all been impacted by the University name change. Dr. W. Sherrill Babb, Mrs. Elizabeth Mason Givens, Dr. Jonathan Master, Dr. Allen Guelzo, and Saritha Petthongpoon share their thoughts on the University's new name and their insights on the opportunities it brings.
[/info]
Jonathan L. Master, Ph.D.
Dean, School of Divinity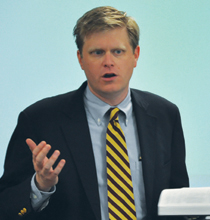 Dr. Jonathan Master graduated in 1998. His father, Dr. John Master is a Professor Emeritus at the University and has served on the faculty since 1987. Jonathan was an adjunct faculty member from 2004-2006 and returned full-time in 2011. As Director of the Center for University Studies, he has overseen the targeted development of the Center's activities and offerings, and has brought scholars, theologians, and artists to campus as a part of the Center's Lecture Series. This spring he was appointed Dean of the School of Divinity.
The Bible applies to all of life. And how could it not? Since God has revealed Himself to humanity in the Scriptures, grasping what He has said is the key to making sense of everything else – ourselves as human beings, and the world which we inhabit. God holds all of it together.
For nearly 100 years, students at this institution have been shown this. Generations of professors have carefully taught that an understanding of the Bible will change the way students look at their lives; it will change their relationships; it will change the way they serve; it will change their understanding of God, history, creation. Our students have been taught that the Bible applies to all of life.
As our institution has grown, this core conviction about the Bible has been tested. Some wondered whether a Bible education really was compatible with a music education; whether a study of social work could be combined with a study of the Scriptures; or how a business education fit with a biblical education. With each change and expansion, questions were raised about the relationship between the core study of the Bible and the study of some other aspect of life and vocation. Since the Bible has always remained central to our students' course of study, we have moved forward into these new fields with confidence, knowing that the Bible alone was strong enough to hold the center of all that our students would learn.
Along the way, we have often been viewed as merely a training ground for those select few who allegedly needed to know the Bible well – professional ministers, teachers, and missionaries. Students who wanted to study more broadly were supposed to go elsewhere in order to pursue disconnected fields of interest. We have never believed this internally, of course, and our alumni have stood as a perpetual witness against this narrow, constricted view. Their faithful presence at the highest levels of so many fields continually testified to the broad value of a biblical education. Yet the false perception persisted nonetheless.
By embracing this new name, we are firmly rejecting that false choice between biblical education and complete education. We are making it clear that a core curriculum with at least thirty hours of Bible is not only for those with a vocational interest in studying theology. Biblical education can apply to all the academic disciplines.
This new name is particularly exciting for those of us in the School of Divinity. For us, the name is not a retreat, but a forward advance. We are not giving up power, we are gaining a platform. This name enables us to emphatically declare to prospective students, to the academic community, and to the world at large what we have always known to be true – biblical study can and should inform all other study. We know that to understand the enduring truths about humanity – sin and salvation, goodness and truth – we must look to the Lord Jesus Christ and His Word.
The name "Cairn" speaks of a boundary marker and a memorial – a reminder of the past and a guide for the future. This is an ideal image for us. We are charged to continue to proclaim God's faithfulness in the past, and to hold up His Word as our guide for the days to come. We do this in the knowledge that the Bible applies to all of life. And we also know that God, by His grace, will continue to use His Word to shed light on our path as we study together in this remarkable University.