[info]
Faculty, staff, administrators, students, and alumni have all been impacted by the University name change. Dr. W. Sherrill Babb, Mrs. Elizabeth Mason Givens, Dr. Jonathan Master, Dr. Allen Guelzo, and Saritha Petthongpoon share their thoughts on the University's new name and their insights on the opportunities it brings.
[/info]
Allen C. Guelzo, Ph.D.
Alumnus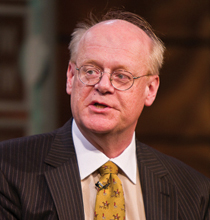 Dr. Allen C. Guelzo graduated in 1975 and joined the President's Advisory Council in 2012. He spoke at the inauguration of Dr. Todd J. Williams as University President in 2008. He is the Henry R. Luce Professor of the Civil War Era where he serves as Director of the Civil War Era Studies Program at Gettysburg College. In addition, he is the author of a number of books on topics related to Abraham Lincoln, the Civil War, and Jonathan Edwards.
Then Samuel took a stone, and set it between Mizpeh and Shen, and called the name of it Ebenezer, saying, Hitherto hath the Lord helped us. (1 Samuel 7:12, KJV)
There is a cairn of stones, high in the Canadian arctic, which marks the path of Sir John Franklin's famous expedition in 1845. There is another cairn of stones on the southern coast of Australia, to memorialize Capt. Matthew Flinders, who first explored the outlines of what was then the mystery continent. Throughout Scandinavia, the bleak northern landscapes are dotted with cairns to mark out pathways for travelers. And near where I live, the local municipality built a cairn beside the nearest connecting highway to remind passers-by of the Welsh roots of the place's earliest settlers.
These cairns tell various stories – of remembrance, of direction, of discovery. In Samuel's case, his stone was literally an even ha-ezer – a stone of help. Samuel had confronted the people of Israel with this offer: "If ye do return unto the Lord with all your hearts, then put away the strange gods and Ashtaroth from among you, …he will deliver you out of the hand of the Philistines." And they did return; and the Lord did deliver them. And partly in celebration, and partly as a permanent reminder in case the Israelites were inclined to renege on their pledge, the stone of help was set up. This was what moved Robert Robinson, an English convert of George Whitefield's, to say:
Here I raise mine Ebenezer;
hither by thy help I'm come;
and I hope, by thy good pleasure,
safely to arrive at home.1
This even ha-ezer was a dramatic and visible marker of what the people of God had been brought through, and a constant reminder of where they must go in the future.
I remember a place called Philadelphia College of Bible. It was short on the kinds of educational amenities college students today take for granted. But even then, in 1971, PCB had come a long way from what it was fifty-eight years before, when it was founded as the Bible Institute of Pennsylvania and Philadelphia School of the Bible. And at every turn in the road, there had been a change of name – Philadelphia Bible Institute in 1951, Philadelphia College of Bible in 1958 (when it obtained authorization to award a Bachelor of Science degree). I was long gone when the college made its most momentous move – out of Philadelphia, to Langhorne–but that was also eventually marked by a change of name, when the school became Philadelphia Biblical University.
Standing at the crossroads of 2012, which anticipates our centennial and the dramatic expansion of our curriculum, we pause for another moment of reflection, of remembrance, of taking bearings ahead. We have never erected literal cairns of stones at such moments, but we have done the equivalent in the various name-changes we have made. So we build again, in metaphor, with a new name–Cairn University. It reminds us of what the pioneers – William Pettingill, W.W. Rugh, C.I. Scofield – did; it is a stone of help that speaks of the divine strength which has protected and nurtured us; and it is a pointer in the direction we are going. We have never stood still. We have never rested on any laurels. We have never been content with the average. We do not mark time. "Occupy til I come," is the Savior's injunction, "Press forward toward the high mark of God's calling." And build at every turn a cairn, a stone of help. Cairn University. Hither by thy help I'm come.
Notes:
All scripture quotations from New American Standard Bible.
1Text from Village Hymns (1824), compiled by New England revival preacher and hymn-writer, Asahel Nettleton.