[info]
Faculty, staff, administrators, students, and alumni have all been impacted by the University name change. Dr. W. Sherrill Babb, Mrs. Elizabeth Mason Givens, Dr. Jonathan Master, Dr. Allen Guelzo, and Saritha Petthongpoon share their thoughts on the University's new name and their insights on the opportunities it brings.
[/info]
Saritha Petthongpoon
Student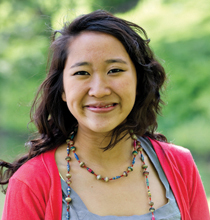 Saritha Petthongpoon is earning her Bachelor of Social Work and Bachelor of Science in Bible Degrees and expects to graduate in December 2012. She is an international student from Thailand who has been actively involved at the University as an Honors Student, as a member of the Resident Life Team, and with the Culture and Arts Association. This spring she completed her one-day-a-week Social Work field placement at Associated Services for the Blind and Visually Impaired.
In 2008, I came to the United States for the first time from Chiang Mai, Thailand to start my college education. I had been previously considering studying architectural engineering at secular schools in the area (Drexel, Temple, and UPenn) with the end goal in mind of serving the Lord in the field of humanitarian aid, but felt unsettled with the idea of investing such formative years of my life in a secular learning community. Through a series of last-minute conversations, I was challenged to consider studying Social Work and found out about PBU through family friends. I applied late in my senior year of high school, and came to realize afterwards that it was providential that I would go on to attend Philadelphia Biblical University. Prior to coming to PBU, I did not know much about the University. I had grown up in a missions community and had a few alumni connections. However, I was excited for the opportunity to grow in my faith through the pursuit of a strong biblical education in conjunction with an intensive social work program. I barely understood what the combination of the two would look like, but the unashamed "Biblical" in the name of the University gave me great assurance that my education would be one centered upon Christ and the Word of God.
Once I became a student, I came to appreciate the integrative nature of the University's commitment to educate students to be biblically minded, well-educated, and professionally competent men and women of character to serve Christ in the church, society, and the world, and sought to align myself to become a fulfillment of the University's mission. The next four years showed me that a biblical education means so much more than just having "biblical" in the name.
As a senior graduating in December, I have also been experiencing glimpses of what the outworking of this mission statement looks like. The transition from being educated to going out to serve Christ in a professional field has been a humbling one. This year I started my one-day-a-week field placement in a secular social service organization working with the blind and visually impaired population in Center City Philadelphia. I entered my first day of the field placement as one of four interns, and felt immediately written off as the "Bible school girl" compared to students from secular universities. The only way to prove to them that my education was much more than what they projected was to intentionally live out my professional competence and commitment to love and serve all people. At the end of the year-long field placement, I had a conversation with one of the social workers I had been working with who asked why I decided on PBU. After I told her she said, "When I think of the word 'biblical' I think of narrow-minded, conservative, and judgmental, but all the students from your University have been so dynamic." That comment brought me much joy. It was such an encouragement not only because it was a compliment to my efforts as an intern there, but it was finally a break-through from the negative assumptions about my education. I had successfully communicated that a biblical education is not lesser in any way, but it is qualitatively different.
With the transition to Cairn University, I am reminded that while the name of the University has been changed, the quality of my education continues to be just as meaningful. I am no less a student of a biblical university than I was before. In fact, I see this change as an opportunity to communicate with others what my University experience has been like without having to first undo the wrongly held preconceived notions. As a soon-to-be graduate, I am excited to live out what it means to be a follower of Christ in the professional field without having wrong assumptions made of me ahead of time. I look forward to the opportunity to embody the mission statement of the University, and share with the world what impact a biblical education has made on my life.