[info]
Faculty, staff, administrators, students, and alumni have all been impacted by the University name change. Dr. W. Sherrill Babb, Mrs. Elizabeth Mason Givens, Dr. Jonathan Master, Dr. Allen Guelzo, and Saritha Petthongpoon share their thoughts on the University's new name and their insights on the opportunities it brings.
[/info]
W. Sherrill Babb, Ph.D.
Chancellor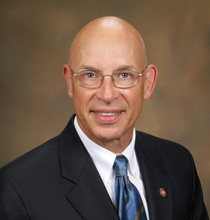 Dr. Sherrill Babb served as the University President from 1979-2007. He oversaw the move from Center City to Langhorne soon after his arrival in 1979. While he was President, the University's undergraduate program offerings expanded and graduate programs were started. In 2001, he oversaw the change in status to university. He continues to be involved at the University in his role as Chancellor.
A dozen years have passed since the name Philadelphia Biblical University was chosen for the purpose of better reflecting the school's mission and expanding academic offerings, including graduate studies. In addition, there was the issue that the word "university" was universally understood in most parts of the world as higher education, as opposed to "college," which can be interpreted as high school or preparatory education in many countries.
With 12 years of implementing the PBU label, there are several issues that have consistently urged the Administration and Board of Trustees to reconsider making a change in the name. The first is that there is a general perception that "Philadelphia Biblical University" still did not connote all that the University has become with some 40 undergraduate academic programs and seven graduate degrees, including areas like education, administration, business, and counseling. This is unfortunate because this was the original primary driving incentive for the labeling of PBU.
A second issue is the global one. The world has changed in the past twelve years, and with more of our alumni seeking ministries in nations which are "closed" to typical evangelical missionaries, the biblical name has been a challenge. For the uninitiated, a biblical university's Bachelor of Social Work degree, Master of Business Administration, or Master of Education degree – to mention a few of our degrees – are falsely interpreted as constituting a limited education or of inferior quality to those produced by non-biblical institutions. In reality, the reverse is actually true. Our graduates are, in most cases, better academically and professionally equipped than their counterparts who are products of secular schools. In addition, these later graduates have no biblical worldview in their career preparation.
Thirdly, the economy is pressing families to think about "value versus cost" issues with higher education, and this is tied strongly to perception. Although we have been accredited for 62 years, there is still in the minds of some individuals that Bible or biblical schools are not accredited. This is the report from our student recruiters. In reality, we are accredited by the Association for Biblical Higher Education, Middle States Association of Colleges and Schools, the Council on Social Work Education, the Association of Christian Schools International, the National Association of Schools of Music, and the International Assembly for Collegiate Business Education. This makes us one of a select few Christian universities with such a number and variety of institutional and programmatic accreditation. I believe that a new name can assist in changing the false perception regarding the University's high academic standing.
A final consideration relates to the relevance of the change in a day when sister institutions like us have taken this direction. In recent years there are other schools similar to us which have intentionally initiated a university structure and name change. All of these universities are accredited by the Association for Biblical Higher Education and have been in existence for many years. I have selected six of them as examples because they are in the upper quadrant in the area of student enrollment among ABHE schools, as is PBU. They are Columbia Bible College changed to Columbia International University, Grace College of the Bible changed to Grace University, Multnomah Bible College changed to Multnomah University, Johnson Bible College changed to Johnson University, Winnipeg Bible College changed to Providence University College, and Toronto Bible College changed to Tyndale University College. Each of these has chosen not to continue the use of Bible or biblical in their name.
In making a name change, one institution stated that they "became convinced that our present institutional name had become a barrier to our being a Great Commission school, especially as it relates to alumni seeking entrance to 'closed' countries. We simply want to allow our clear mission to direct all that we do, even if it leads us to difficult decisions." I believe that this commitment to the University's mission is at the root of why PBU is now making a name change.