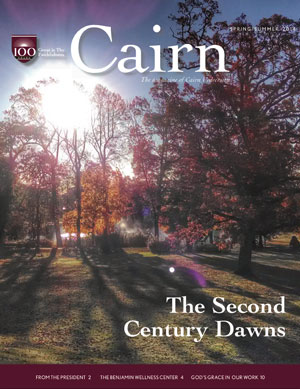 From the President: A New Century Dawns
by Todd J. Williams, Ph.D.
Feature Story: Building Relationships: The Benjamin Wellness Center
by Marissa A. Rumpf, M.S.Ed.
In Depth: God's Grace in Our Work
by Kevin McFadden, Ph.D.
On My Mind: Liberal Arts: What's Love Got to Do with It?
by Jason VanBilliard, Ed.D.
Alumni Profile: My Deep Appreciation
by Tomas Vagner, M.S.Ed.

University News
– Reconnect! Using Cairn's New Website
– Retirements
Advancement Update
– 100 Hours of Giving
– Golf Classic 2014