"Virtue Matters"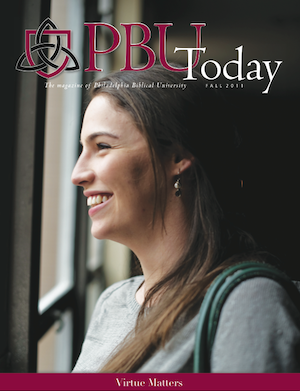 From the President: Brick By Brick
by Todd J. Williams, Ph.D.
Feature Story: "Let it Go Among Our People"
by Jonathan L. Master, Th.M.
On My Mind: Counting the Cost
by Todd J. Williams, Ph.D.
In Depth: Behold! The Humility of God
by Brian G. Toews, Ph.D.
Student Spotlight:
– Why PBU?  by Vaughn D. McRae
– Lessons Learned  by John Maxham
University News
– New Director of Alumni Relations

Advancement Update
– Campus Improvements
– E-Giving
Alumni Profile: Nancy Egan G'97
by Carolyn Clare Givens, M.A.